Lady Gaga Still Getting Ripped For Her Sound Of Music Tribute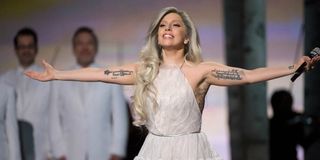 Lady Gaga is no stranger to controversy or causing divisive rifts, but her performance at the 87th Oscars, where she sang a collection of songs from The Sound of Music, certainly managed to piss off a few people. Almost a month later, she's still catching grief, this time from Stephen Sondheim, who has some harsh words for the flamboyant pop star.
The legendary composer and lyricist, the man behind the likes of Into the Woods, Sweeny Todd, and so many more, recently spoke to Playbill about Gaga's presentation and did not mince words. He said:
To be honest, I'm probably the last person who should be chiming in on this subject, as I'm not a fan of either Lady Gaga or The Sound of Music, but Sondheim's words are pretty harsh. Whatever else you think of her, Gaga can sing her ass off, and the performance was fine for what it is, and a fitting way to celebrate the 50th anniversary of the beloved musical. Maybe she's no Julie Andrews, but who the hell is?
It might not fit with the 84-year-old elder statesman of musical theater's vision of what The Sound of Music should be, but the musical numbers seem to largely be viewed as the high points of the Neil Patrick Harris-hosted event. We even named the tribute as one of our five best moments of the entire broadcast, to give you an idea where we're coming from.
But Sondheim isn't the only one casting shadows over Gaga's time on the Oscar stage. Scandal, Grey's Anatomy, and How To Get Away With Murder creator Shonda Rhimes publicly bashed the performance, lamenting that Idina Menzel was "right there" and that Julie Andrews had to suffer through these versions of the classic songs.
As much hate as Gaga's rendition has received, however, she has at least that much support and adoration, including coming from where it matters most: Julie Andrews herself. Following the Academy Awards, Andrews was, of course, asked for her thoughts, which were glowing. She praised not only Gaga's voice and delivery, but her overall demeanor as well, saying she "hit it out of the park." Lending even more credence to the show, before hand, the "Poker Face" singer reached out for, and received, Andrews' approval and blessing. If we had to hazard a guess, we'd say that's probably the only opinion Gaga really cares about.
Photo credit: ABC
Your Daily Blend of Entertainment News