Scandal Showrunner Throws Some Serious Shade At Lady Gaga's Sound Of Music Tribute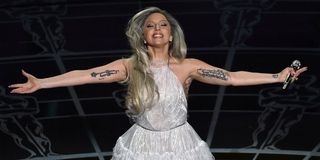 If you ask me, the only things the 2015 Oscars ceremony had going for it were the musical numbers. While Jennifer Hudson gave a stirring performance, Lady Gaga's tribute to The Sound of Music was truly spectacular. Unfortunately, there was one person who didn't agree, and that was…Shonda Rhimes?!
The creator of Scandal and producer of How To Get Away With Murder is usually against vindictive Twitter tirades, but she, nonetheless, bashed Gaga's Oscars performance last night.
When it was first announced that Gaga would be performing a special number on the Oscars grand stage, all of her "Little Monsters" were losing their damn minds. The details of her performance were kept tightly under wraps, but it was well worth the wait. The pop singer was once known for her edgy and over-the-top outfits (both on and off the red carpet) and stage persona. But she has recently returned to her roots as a classically trained jazz singer. She released a jazz album with the great Tony Bennett, and the two sang together at this year's Grammy awards. However, her Oscars performance was the culmination of this transformation, and people should be viewing her as a powerhouse talent.
Julie Andrews, who played Maria in The Sound of Music, came out on stage to embrace Gaga after the star showered the audience with her sparkling talent. Andrews was essentially the Prince of the Oscars, as people in attendance were freaking out that she was there. By the looks of things, she was thrilled by what Gaga delivered.
It's too bad Rhimes didn't think so. We all have our favorites, but Gaga's Sound of Music medley was widely praised by both critics and audiences. Billboard named it the second best performance of the evening, just behind Common and John Legend's moving rendition of "Glory," the Oscar-winning original song from Selma. At least Rhimes is a fan of Idina. The Broadway singer made headlines on New Year's Eve for her botched performance of "Let It Go" from Frozen, and her response didn't help matters much. But if the Oscars taught us anything, it's that the one thing she'll be remembered will be her Adele Dazeem moment with John Travolta.
The 2015 Oscars also featured Rita Ora singing "Grateful" from Beyond the Lights, Maroon 5 singing "Lost Stars" from Begin Again, a crazy rendition of "Everything Is Awesome" from The LEGO Movie, and Tim McGraw singing the intimate song from Glen Campbell…I'll Be Me, titled "I'm Not Gonna Miss You." Hopefully at least one of these was to Rhimes' liking.
Photo Credit: © ABC
Your Daily Blend of Entertainment News