Laurence Fishburne's Character Will Help Expand John Wick 2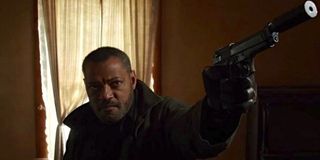 John Wick was one of the most enjoyable action movies of 2014. Not just because it was slickly put together by first time directors Chad Stahelski and David Leitch, but because it was a welcome return to the genre for Keanu Reeves. It also fared rather well at the box office, bringing in $80 million from just a $20 million budget, which meant that a sequel was soon greenlit. Laurence Fishburne is one of the new names that has been brought on board for John Wick: Chapter 2, and the always dependable actor has been discussing how his character will help the sequel to evolve and expand the world.
Laurence Fishburne made this explanation while speaking to Collider about his upcoming turn in Batman v Superman: Dawn of Justice. Obviously the conversation soon turned away from Perry White to John Wick: Chapter 2, which is what led Laurence Fishburne to say of his character in the sequel:
The Continental world that Laurence Fishburne is referring to is the name of the hotel that John Wick seeks refuge in during his bout with Michael Nyvqvist's Viggo Tarasov. This is a hotel that exclusively caters to assassins and criminals, however, killing is completely outlawed on the premises. Ian McShane will once again play the hotel's owner in the sequel.
But Laurence Fishburne's comments suggest that John Wick: Chapter 2 will explore an entirely different world to the original, which should then see a whole new cast of assassins and devious individuals causing mayhem. So far Common, Peter Stormare, Riccardo Scamarcio, and Ruby Rose have joined Laurence Fisburne as the newest additions to the franchise.
However, it is the tantalising prospect of the old Matrix pals Laurence Fishburne and Keanu Reeves reuniting that really makes John Wick: Chapter 2 so appealing. Fishburne played Morpheus to Keanu Reeves' Neo in the hugely popular trilogy, which not only helped to redefine the sci-fi action genre, but over the course of three films the franchise grossed more than $1.6 billion.
From the sound of things, Laurence Fishburne's John Wick: Chapter 2 part might not be huge, as he admitted that he coerced his old friend Keanu to get him a part. But since both The Matrix and John Wick were similar in their meticulously choreographed action sequences, we can only hope that we'll get even the briefest of glimpses of Laurence Fishburne and Keanu Reeves going toe-to-toe with wave after wave of bad guys, again. We'll find out if that's the case when John Wick: Chapter 2 is finally released on February 10, 2017.
Your Daily Blend of Entertainment News