M83 Scoring Joseph Kosinski's Science Fiction Film Oblivion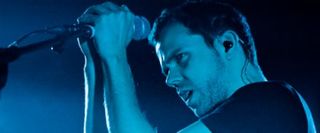 Director Joseph Kosinski made his mark in commercials and if you look back through his spots, including this Gears of War "Mad World" ad, you'll notice that he's always had great grasp of sound on top of his impressive visual style. His first feature film, Disney's Tron: Legacy, certainly has its detractors, but the one thing most people seem to be able to agree on is that they at least enjoyed the innovative score by Daft Punk. And for Oblivion, Kosinski's next project, the director has once again gone with an electronic act to compose the music, only this time it's M83.
The Playlist reports that the French band fronted by Anthony Gonzalez has been tapped to score the upcoming science fiction epic starring Tom Cruise. The film puts Cruise in a very Wall-E-esque situation on deserted Earth before the arrival of a beautiful stranger begins his quest to save the planet. M83 has released six albums but the band's latest, 2011's "Hurry Up, We're Dreaming," was their highest charting to date and was included in several major music magazines' top tens.
The Playlist was able to catch up with both Gonzalez and Kosinski, and the musician apparently moved to Los Angeles in order to specifically pursue soundtrack work. This will be his first film but he said he "can't wait to hear my music played by amazing musicians, and an orchestra and brass and maybe choirs." Hinting at what we can expect, Gonzalez added that his "vision is really to have a combination of very electronic moments, very M83, and sometimes merge into something more soundtrack-y."
As for Kosinski, the director claims that he was listening to M83 while writing the story for Oblivion and he hopes for something from the band, "that is both emotional, but at the same time can feel big and have a lot of space in it... very intimate but it also can feel just huge." By the sounds of it, since the film opens with Cruise's character working alone, the music will prove extra important to fill the sound space and, as always, provide the right atmosphere. Think Clint Mansell's score for Moon or, well, Thomas Newman's work on Wall-E combined with music from Hello Dolly. Very different sounds but equally important to their respective films. I look forward to hearing what Kosinski and Gonzalez have in mind for Oblivion.
Here's the video for M83's "Midnight City." Trust me, you've heard it and you'll know within seconds...
Oblivion hits theaters on April 26, 2013. Based on an original story by Kosinski, with a script from writers William Monahan, Karl Gajdusek and Michael Arndt, It stars Cruise, Olga Kurylenko, Melissa Leo, Nikolaj Coster-Waldau and Andrea Riseborough.
The official synopsis,
Your Daily Blend of Entertainment News
Thank you for signing up to CinemaBlend. You will receive a verification email shortly.
There was a problem. Please refresh the page and try again.