Everything Explodes In The Latest Mad Max: Fury Road Footage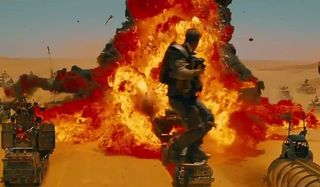 The first clips for Mad Max: Fury Road have proven that the fourth film of George Miller's cult franchise is going to be one of the must-see films of the summer. And the latest 15-second teaser for Fury Road reinforces all of the reasons why anticipation is currently at a fever pitch for the film, simply by blowing everything up.
Mad Max: Fury Road is the first film of the series for 30 years, and it looks as though co-writer and director George Miller (who previously had a hand in the three preceding Mad Max films) has had a lot of fun utilizing the $150 million budget that was at his disposal.
The latest teaser for Mad Max: Fury Road (which is rightfully entitled Explosion) only gives us a brief look at the fiery flick's leading pair of Tom Hardy and Charlize Theron, but it does suggest that Miller has complete control over the film's set-pieces. The post-apocalyptic cars, bikes and characters all look to be tantalisingly well-placed, while, despite its brevity, it's clear that George Miller has positioned his camera in intimate places as the action unfolds. Of course, I might be reading too much into that just from this one clip, but I'm confident that Mad Max: Fury Road's previous trailers back up my remarks.
Mad Max: Fury Road will be led by Tom Hardy, and The Dark Knight Rises star takes the role of the Road Warrior himself, Max Rockatansky. George Miller has also managed to amass an all-star ensemble of acting talent which includes Charlize Theron as Furiosa, as well as Nicholas Hoult, Hugh Keays-Byrne, Zoe Kravitz, Riley Keough and Rosie Huntingon-Whiteley. You can check out Fury Road's enticing synopsis below:
Well, I'm in. And the impressive reaction to Mad Max: Fury Road's first trailers is proof that a lot of other people are too. And while it's not likely to contend with the box-office total of Furious 7, Avengers: Age Of Ultron, or Ant-Man, it's looking more and more likely that it will prove to be just as -- or maybe even more -- exhilarating than this trio. And, in the end, isn't that all that really matters?
Mad Max: Fury Road will be released on May 15. It promises to be a scorcher.
Your Daily Blend of Entertainment News
Your Daily Blend of Entertainment News
Thank you for signing up to CinemaBlend. You will receive a verification email shortly.
There was a problem. Please refresh the page and try again.