Magnolia Pictures Will Distribute The Five Obstructions: Scorsese vs. Trier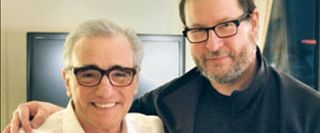 In case you couldn't quite believe the news that Lars von Trier and Martin Scorsese would in fact be teaming up to remake Von Trier's documentary The Five Obstructions, it's gotten even more official now that an American distributor has come on board. In a press release Magnolia Pictures announced that they've teamed up with a company called Madman to distribute the film, which is actually called The Five Obstructions: Scorsese vs. Trier. The deal also includes another Danish film, the period drama A Royal Affair starring Mads Mikkelsen and Alicia Vikander, but it's unlikely that movie will be nearly as hyped as the film nerd collision that is Scorsese vs. Trier.
Sadly, as we suggested when we first learned the news, we won't be getting a look at this mad experiment any time soon--the press release confirms that the film won't be finished until 2013, which means it could be as late as 2014 when the two inevitably show up at Cannes and infuriate people. Well, at least von Trier probably will.
Below is the press release with all the nitty gritty details.
Staff Writer at CinemaBlend
Your Daily Blend of Entertainment News
Thank you for signing up to CinemaBlend. You will receive a verification email shortly.
There was a problem. Please refresh the page and try again.