Man Of Steel 2 Almost Had A Completely Different Villain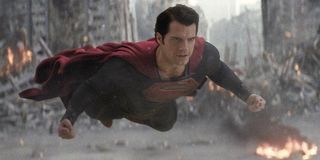 Rumors regarding the villains for Man Of Steel 2 have been circulating since before Man Of Steel was even released. The likes of Doomsday, Brainiac and Metallo have all been linked to the blockbuster at some point or another, and it now turns out that there was just cause for fans to think the latter duo were going to be involved. Because they almost were.
Zack Snyder made this admission to Entertainment Weekly, via Comic Book Movie, for the publication's on-set visit, explaining that during their early discussions for where to take the DC universe, it was suggested that John Corben's villainous alter-ego should be feature. Snyder admitted:
Metallo and Brainiac are regarded as two of Superman's most deadly foes. Metallo possesses a kryptonite power source that he has used to decimate Superman throughout his history in the comics, while Brainiac is actually an extra-terrestrial android, who previously stole Kandor, the capital city of Krypton, by shrinking it down. And even though they're not featuring in Zack Snyder's Batman v Superman, it's good to know that the director has at least been thinking about them.
Snyder admitted that when the conversation turned to adding Bruce Wayne's caped crusader to the mix for Man Of Steel 2, though, the film started to take a different twist. Rather than being a straight sequel to the 2013 blockbuster that would be a continuation of Superman's life on planet earth, Man Of Steel 2 became the platform to expand the DC Universe.
And during his own chat with Entertainment Weekly, Henry Cavill, who will reprise his super-duper character in Batman v Superman: Dawn Of Justice, admitted that the sequel really isn't actually a sequel. Cavill then stated that Dawn Of Justice will actually be more of an introduction to Batman, plus it works as an opening to the Justice League and looks to evolve the universe that was created and teased in Man Of Steel.
The latest batch of promotion for Batman v Superman: Dawn Of Justice has done a sterling job of ramping up anticipation for the film. And this is only set to increase over the next few weeks leading up to, and including, this month's Comic-Con. Hopefully we'll be privy to some more clips and footage that gives us our first proper peak at Gal Gadot's Wonder Woman and Jesse Eisenberg's Lex Luthor. And if that's the case then the countdown until Batman v Superman: Dawn Of Justice's March 25, 2016 release date will be well and truly on.
Your Daily Blend of Entertainment News
Thank you for signing up to CinemaBlend. You will receive a verification email shortly.
There was a problem. Please refresh the page and try again.