Margo Martindale Will Berate Chris Cooper In August: Osage County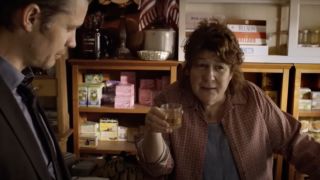 (Image credit: FX Productions)
When casting for the Weinstein Company's adaptation of August: Osage County got started in earnest, the first person I thought should have a role was Margo Martindale. The veteran character actress who recently won an Emmy for her run on Justified hasn't just proven she can play someone who hails from the middle of the country, but she's a perfect match for the role of Mattie Fae Aiken, the sister of lead character Violet Weston, who provides both a comedic foil to some of the dramatic moments and also some of the play's most brutal scenes.
Turns out, I'm not the only one who thinks Martindale is right for the part. Deadline reports that she's in fact been cast as Mattie Fae, joining a cast that's led by Meryl Streep as Violet and Julia Roberts as her eldest daughter Barbara. Also signed on are Abigail Breslin as Barbara's rebellious teenage daughter, plus Juliette Lewis as youngest sister Karen. Chris Cooper is playing Charles Aiken, the husband of Mattie Fae who puts up with her brusque personality largely through decades of quiet suffering.
Production on the film, which is adapted from Tracy Letts's Pulitzer-winning play, is set to begin in Oklahoma this September, with John Wells directing a screenplay that Letts adapted himself. Yes, this movie does indeed have "Oscar" written all over it, though it's still unclear how they'll expand a play that's set within a single house, and how they'll condense the sprawling three-hour run time. But there's potential for powerhouse performances from every single person in the cast-- yes, even Breslin-- and Martindale is more than likely to hold her own. When you've got that much talent gathering for one film, you can't help but anticipate something great in the final result.
Your Daily Blend of Entertainment News
Staff Writer at CinemaBlend