Mark Hamill Had The Best Reaction To Amy Schumer's Risque Star Wars Photos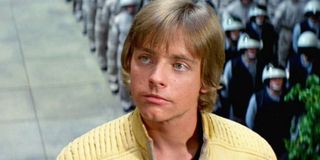 Earlier this week, GQ dropped a very special issue featuring Amy Schumer and a few classic Star Wars characters. Needless to say, with Schumer involved, things got a little dirty. Her blunt, explicit style is why fans love her though, and why the comedian continues to skyrocket to fame. But, Schumer's way of comedy is bound to piss a couple people off, in this case, the Star Wars franchise. Don't tell Mark Hamill that though, because he loved the photo shoot, and is certainly not afraid to say it.
After Lucasfilm and Disney sent out a Tweet that they did not approve the "inappropriate use of [their] characters", it is refreshing to hear that Luke Skywalker himself at least has a sense of humor. This may put him on the dark side of the Star Wars franchise, but if he's there, we'll gladly go with him. The photos of Amy Schumer getting down and dirty with classic characters such as R2-D2 and C3PO were downright hysterical.
Hamill's reaction is even more perfect as he somewhat calls out the ridicule of the franchise, stating "we should be so lucky" to even have Amy Schumer in association with the films. He had hoped that it was a tease into what's to come, a potential casting in Episode 8? Though after Lucasfilm's quick dismissal of the actress' actions, it doesn't seem very likely we'll see her getting back on their good graces, and scoring any roles in upcoming films. You have to admit though. She did pull off that Princess Leia bikini quite convincingly.
After this little stunt, Schumer may be stuck with parodying franchise favorites, instead of actually acting in them. I doubt she'd be disappointed with that though. You can see Schumer in her feature film debut though as she stars in her own screenplay Trainwreck which is currently in theaters. As for Mark Hamill, you can catch him in this obscure new film, you may of heard of it, Star Wars: The Force Awakens hitting theaters on December 18, 2015.
Your Daily Blend of Entertainment News