When Marvel Will Add An LGBT Character To The Movies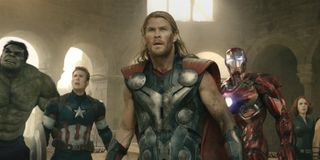 Coming off of the historic Supreme Court ruling that brings marriage equality to all of America, Kevin Feige addressed the lack of LGBT representation in the Marvel Cinematic Universe. Unlike the comic books, the blockbuster films haven't represented that population, and while fans have been calling for more female and ethnically diverse characters, there are those who have denounced the studio's seeming exclusion of the gay community. For those in this camp, that wish will be granted…within the next decade or so.
During the recent press day for Ant-Man, Collider asked Feige if we'd see an LGBT character in the MCU within the next decade or so. The man behind the curtain said:
Now, whether there are any comic characters or story arcs that his team is specifically looking at remains to be seen. Feige continued the interview by saying that they're main goal is creating adaptations that complement and properly utilize the comic books. As he said, they "make the path," although he mentioned that there is usually a 5-to-10-year lag between when something interesting happens in the comics and when that same thing is seen on the big screen. Captain America: Civil War, he noted, is roughly around the 10-year mark. Though, he doesn't see any reason why including an LGBT character or two even sooner couldn't happen. And there are a lot of cool things happening in the comics, including the all-female Avengers team, Jane Foster as the female Thor, and Sam Wilson as an African American Captain America.
Looking at the upcoming slate through 2019, you can see diversity is already coming to the MCU, though there is certainly room for more. Doctor Strange (coming November 4, 2016) will feature Tilda Swinton as the Ancient One, traditionally depicted as male. Black Panther (coming July 6, 2018) will see Chadwick Boseman headline the first MCU film dedicated to an African superhero. And Captain Marvel (coming November 2, 2018) will be the first female-fronted MCU film.
The only real LGBT character featured in the MCU was Sam Rockwell's Justin Hammer. The Iron Man 2 villain reappeared in the Marvel One-Shot, All Hail the King, as a prison inmate and his stereotypical prison bitch portrayal was mildly offensive. (Comics Alliance published an epic takedown of this scene that's worth reading.) Warner Bros. has already beaten Marvel on the small screen in offering more LGBT representation. (Specific hat tips go to Greg Berlanti for Arrow and The Flash.) It's not like there's a lack of characters to choose from. Plus, as Feige recently pointed out when discussing the Ancient One, some of these characters are more malleable than others when adapting for the big screen.
Your Daily Blend of Entertainment News