When Marvel May Bring Nick Fury Back To The MCU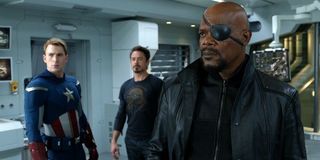 Despite faking his death in Captain America: Winter Soldier, Samuel L Jackson's Nick Fury decided to come out of the woodwork again for Avengers: Age Of Ultron, as he looked to pull the crime fighting team together again in their moment of disarray. But while he's not expected to appear in Captain America: Civil War, the latest rumor is that Samuel L Jackson will return to the Marvel Cinematic Universe for 2017's Thor: Ragnarok.
Gold Coast Bulletin has speculated that since Samuel L. Jackson is currently on Australia's Gold Coast shooting Kong: Skull Island at Village Roadshow Studios, he might put on the Nick Fury eyepatch again and reprise the character for Thor: Ragnarok.
That's because, as Kong: Skull Island's production comes to an end, Marvel Studios now is moving into the very same spot as pre-production on Thor: Ragnarok kicks into gear. The aforementioned publication insists that Marvel Studios' "artistic, creative, and technical crew" moved into Kong: Skull Island's vacated sound stages on February 14. Kimble Rendall's The Nest has also been shooting on the same sound stage, but that production is now close to conclusion, too.
There's every chance that Tom Hiddleston will have been trying to convince Samuel L. Jackson, his Kong: Skull Island co-star, to appear in Thor: Ragnarok. Hiddleston will reprise his role as the villainous Loki, the brother of Thor, in Ragnarok, while he also has taken the lead role in Jordan Vogt-Roberts' upcoming monster epic. Let's enjoy the two actors together in the original Avengers movie.
Samuel L. Jackson's appearance in Thor: Ragnarok would be much appreciated. Captain America: Civil War is literally bursting at the seams because of its ensemble (while Avengers: Infinity War is also set to include 67 Marvel characters, according to reports). Thor: Ragnarok, which is being written by Craig Kyle and Christopher Yost and directed Taika Waititi (What We Do In The Shadows), only includes Chris Hemsworth, Hiddleston, Jaimie Alexander, both Cate Blanchett and Idris Elba, probably, and, most excitingly of all, Mark Ruffalo.
Ruffalo will, obviously, be playing the role of Bruce Banner/The Hulk. Ruffalo has already teased that Thor: Ragnarok is like a road movie that's set across the universe. That revelation instantly had Marvel fans speculating about how Bruce Banner will end up on Asgard. That could include Nick Fury, who might assist The Hulk in his journey across the galaxy. Obviously, at the moment, that's all just speculation.
But, fans will now be clamoring for Jackson to join Thor: Ragnarok. simply because he's Samuel L. Fucking Jackson. Hopefully we'll have some clarification about Jackson's Thor: Ragnarok status in the next few weeks. Especially since its production start date is imminent ahead of its November 3, 2017 release date.
Your Daily Blend of Entertainment News
Thank you for signing up to CinemaBlend. You will receive a verification email shortly.
There was a problem. Please refresh the page and try again.