Marvel Might Start Giving Us More Superhero Movies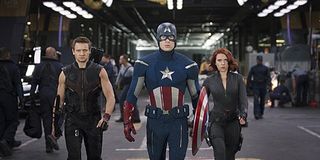 How many Marvel movies a year do you want to see? The studio's looking at Captain America: The Winter Soldier being the first real four-quadrant blockbuster of 2014, Guardians Of The Galaxy having one of the year's buzziest trailers, and Avengers: Age Of Ultron easily set to be the biggest film of 2015. But what about three Marvel movies a year instead? That might not be a fantasy for much longer.
In a sit-down with Marvel head Kevin Feige, Badass Digest uncovered his hopeful plans for the fate of the onscreen Marvel universe:
Very slowly, Marvel has been inching towards diversifying their releases. Superhero movies, on a whole, were only summer events given primo release dates, but Thor: The Dark World was unleashed in November and collected $641 million. The Winter Soldier is hitting right in the middle of spring. Even Guardians isn't reaching us until August, considered by some to be a dumping ground for summer for "lesser" properties. The fact that the studio bumped former November 2015 release Ant-Man into July '15 suggests to Badass Digest (who has a certain ear for Marvel news) that while Captain America 3 is currently slated for May 6th, 2016, there might be something brewing for that abandoned November slot, giving the studio three '15 releases.
Release date shenanigans aside, Marvel is in a perilous place right now. While they've done well to introduce new characters, with Ant-Man and Guardians of The Galaxy on the way, they're going to have to deal with their original characters being put out to pasture. Chris Evans has openly spoke about fulfilling his six-film Marvel pact (which, ostensibly, would end with a third Avengers) and then stepping down. Even after a billion dollar Iron Man 3, the studio can't continue to pay Robert Downey Jr. Johnny Depp money either.
In the comics, there was always a wave of characters to stand in for popular mainstays. U.S. Agent and Nomad filled the Captain America position, War Machine stepped in for Iron Man, Beta Ray Bill served as Thor, and there's an entire family of Hulks. But those were always placeholders, ones that allowed fans the sliver of hope that their heroes would always return, and they always did. Will the movies simply recast and move ahead with Captain America and Iron Man films in perpetuity? If not, this three-and-four film a year plan is going to feature a number of unfamiliar characters like Dr. Strange, Ms. Marvel and Black Panther. If the studio heads in that direction and foregoes their more familiar characters, just as DC is ante-ing up with Wonder Woman and The Flash, will they lose their box office supremacy? And do you WANT three Marvel films a year? Answer in the comments below.
Your Daily Blend of Entertainment News