Matthew Goode Joins Benedict Cumberbatch For Alan Turing Biopic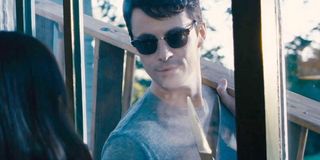 English-actor Matthew Goode is best-known Stateside for his performance in the polarizing superhero drama Watchmen, a role he knows many out there hate him for. But fans of thrillers got to see a new side to Goode when he co-starred in Park Chan-wook's challenging English-language debut Stoker. The film that showed him playing a deceitful uncle with dark drives divided critics (though we here adored it), but it may have been just the edgy, eye-catching performance Goode needed to get noticed for a certain promising in-development drama.
The Imitation Game is a proposed biopic about famous mathematician Alan Turing, and its been earning buzz since 2011, when its screenplay by Graham Moore scored a coveted spot on the Black List, a collection of the most raved about screenplays Hollywood hasn't yet produced. But it's 2013, and The Imitation Game is finally gaining steam. Celebrated Headhunters director Morten Tyldum has been hired to helm. Star Into Darkness star and thinking woman's sex symbol Benedict Cumberbatch has been signed to star as Turing, and Keira Knightley is in talks for the film's female lead. Into all this comes news from The Daily Mail that Goode has committed to co-star. Before we get into who the latter two will play, let's take in a pertinent history lesson.
Mid-way through Pride Month it seems a good time to talk about the incredible contributions Alan Turing unleashed on the world. A brilliant mathematician, logician, and cryptanalyst, he was also essentially a computer scientist before the word had a thorough definition. His invention of the Turing Machine—a theoretical device that reads symbols on a strip of tape by a table of created guidelines—is credited as being the base of computers as we know them, making him the father of computer science. But this amazing accomplishment is not expected to be the focus of The Imitation Game.
Instead, the biopic is expected to focus on his efforts during World War II, wherein the patriotic Englishman worked for Great Britain's code cracking center at Bletchley Park to decipher coded Nazi messages. By devising several methods, Turing was a major factor in cracking the mystery of the German's Enigma Machine. But the personal story of Alan Turing was far less inspiring. Despite all he'd done for science and the war effort, Turing was prosecuted in 1952 for being gay. Homosexual acts were illegal in the UK at the time, and the punishment Turing was given is frankly dehumanizing.
Previously, it was unknown what part Knightley would be playing in Turing's life story, but now we know she's up for the role of Joan Clarke, a mathematician and cryptanalyst who worked alongside Turing during World War II. According to Andrew Hodges's book from which Moore's script is based, Clarke had offered to marry Turing, even though she knew full-well he was gay. He never took her up on that offer, but hopefully Knightley will take up the offer to co-star here, as this project sounds like just the kind of drama she can really sink her teeth into. As for Goode, he's set to play another code-cracking colleague, Hugh Alexander, who was also a chess master.
Your Daily Blend of Entertainment News
Staff writer at CinemaBlend.