Are Meryl Streep, Cameron Diaz And Milla Jovovich The Future Female Expendables?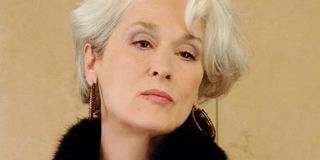 With The Expendables and The Expendables 2 pulling in more nearly $574 million worldwide, their maker Millennium Films has been eager to keep this franchise thriving with Expendables 3 as well as a female-fronted spin-off currently known as The ExpendaBelles. Let's ignore the eye roll worthy title for a moment, and move on to the latest news about this proposed picture, namely that Meryl Streep, Cameron Diaz and Milla Jovovich are said to be in talks.
Deadline has been following the development of the project overseas, more specifically in Bulgaria, where Millennium has produced several features, including Expendables 1-3. While overseeing production on Expendables 3 there, Millennium chief Avi Lerner has been loose-lipped about the stars he hopes to land. According to Deadline's translation of a Standart article, Lerner leaked revealed he is in negotiations with these three actresses. However, he also said casting can't be cemented until a director is attached. Then, Lerner offered another surprise, confessing he's hoping to give the gig to a female director. As to who he is eying to helm the script by Legally Blonde scribes Karen McCullah Lutz and Kirsten Smith, Lerner is playing coy.
Avi, might we suggest Lexi Alexander? If you want brilliantly bonkers action, it's hard to beat the Academy Award-nominated director who made the hard-R superhero thriller Punisher: War Zone.
Obviously, for The ExpendaBelles to be a good companion piece to The Expendables, it needs to secure major talent with action chops whose work appeals across generational lines. Jovovich has been a solid onscreen ass-kicker since 1997's The Fifth Element, and pumped up her badass reputation with one after another (after another after another) Resident Evil movies. Though best known for comedies like There's Something About Mary or My Best Friend's Wedding, Diaz has been known to get in on action in the Charlie's Angels movies as well as in the 2010 Tom Cruise espionage comedy Knight and Day. But Meryl Streep? She's the leading lady to whom all others aspire, but is she an action star?
The closest she has come was fronting the white water rafting thriller The River Wild in 1994. But frankly, who cares? She's Meryl Streep. If she wants to wield massive guns or dual-fist with knives (as unlikely as that seems), I'm on board. It's actually exciting to imagine Millennium thinking so outside of the box for a movie that risks being a lazy carbon copy. Still, for Expendables to work the way its pre-established counterpart does, Lerner will have to score some better established action heroines. Basically if Sigourney Weaver, Linda Hamilton, and Uma Thurman aren't getting calls someone is messing this up.
Staff writer at CinemaBlend.
Your Daily Blend of Entertainment News
Thank you for signing up to CinemaBlend. You will receive a verification email shortly.
There was a problem. Please refresh the page and try again.