Metropolis Is Going To Look A Lot Like This American City In Batman v Superman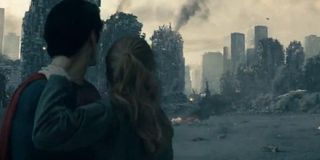 After just a few short years of being away, Batman is coming back to Chicago. New reports have revealed that Batman v Superman: Dawn Of Justice is scheduled to move production to the Windy City in the early days of November, before then moving on to several surrounding communities for another week and a half. Many of you will remember that Christopher Nolan previously had the city substitute for Gotham in his Dark Knight movies, but this time around it will be turned into Metropolis, just like it was for Man Of Steel.
Rich Moskal, the director of the Chicago Film Office confirmed to My Fox Chicago that Ben Affleck's Dark Knight and Henry Cavill's Man Of Steel will be going toe-to-toe downtown before then moving further afield in just over a month's time. This is reminiscent of how Man Of Steel's production used the city back in August 2011, as several locations inside the Chicago Loop were used to depict Metropolis. Plano, Illinois, which is about an hour outside of Chicago, replicated Smallville. Batman infamously swayed between Chicago's stunning architecture in the non-too-distant past too, as downtown locations for both Batman Begins and The Dark Knight.
Moskal also went on to admit that the schedule from Warner Bros. and director Zack Snyder is still in the works, but that he is pretty certain where filming will take place. He explained,
Moskal also went out of his way to praise Christopher Nolan's use of the city for The Dark Knight, explaining that his "interesting" vision for the blockbuster managed to showcase the "look, mystery and drama" of Chicago's architecture. Will Snyder be able to do the same with Batman V Superman: Dawn Of Justice? Let's hope so. Man Of Steel didn't try to characterize Metropolis in the same way that Batman Begins and The Dark Knight did with Gotham, and it instead focused on making Smallville as warm, luscious and quaint as possible.
The fact that Batman V Superman is only using Chicago for a few days of filming though suggests that the sequel may end up follow the same path as its predecessor in that Snyder is won't try to use the city quite in the same way that Nolan did (something that hardened critics of the director will probably use to once again bash him with). But why is Chicago so popular with modern-day film studios? Moskal believes that it's because it "looks so darn good on screen." It's hard to disagree with him.
Your Daily Blend of Entertainment News
Thank you for signing up to CinemaBlend. You will receive a verification email shortly.
There was a problem. Please refresh the page and try again.