New Michael Myers Found For Halloween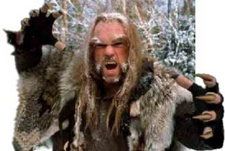 Director/hell rocker Rob Zombie's self-styled re-imagining of Halloween is well under way. Zombie has announced on his MySpace page that he's found his new Michael Myers. It'll be wrestler Tyler Mane.
If you're not a wrestling fan, then you probably know him best as Sabertooth in the first X-Men movie. He also played Rufus in Zombie's last movie, The Devil's Rejects. Zombie says, "Tyler is mean, lean and ready to bring you the most psychotic Michael Myers yet."
Meanwhile, Fangoria is reporting that series star Danielle Harris (Halloween 4 & 5) has been asked to return by Rob. Her character has been completely killed off in the movies already, so presumably she'll be playing someone different. Also, last week we heard that Malcolm McDowell has been cast as Dr. Loomis.
Your Daily Blend of Entertainment News
Thank you for signing up to CinemaBlend. You will receive a verification email shortly.
There was a problem. Please refresh the page and try again.