New NSFW Poster For Love Is Sexually Graphic, Will Get Banned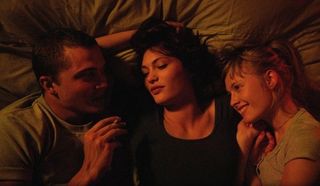 If you've ever watched a Gaspar Noe movie, you know the French filmmaker is not one to shy away from controversy, graphic material, or showing the nastiest, most explicit bits humanity has to offer. His latest movie, Love, which just premiered at the Cannes Film Festival, is not going to be the one that changes that. The film just released the latest in a series of incredibly graphic, sexually explicit posters. This one is SUPER NSFW.
We're going to keep talking for a bit, just in case you change your mind and want to click away. So here's your last chance. Make sure your boss can't see you if you scroll down any further.
While this poster is rather graphic, it's honestly not that surprising when you consider it's for a Gaspar Noe film. This is a guy who filmed maybe the most brutal rape scene ever committed to celluloid in Irreversible, his I Stand Alone is one of most pessimistic, taboo-stomping films in recent memory, and Enter the Void is a psychedelic, drug-fueled, POV ghost story, sort of.
Throughout his body of work, Noe has never shied away from showing sex or violence, and that's the point. He wants to push your buttons, cross boundaries and thresholds, and see what an audience can endure, and he does so in order to poke and prod the viewer, evoking a violent, visceral reaction. His goal is the outrageous and the response that gets. He's certainly not too terribly concerned with whether or not this poster is ever actually displayed in a movie theater lobby or not. Then again, that's what this other, less explicit one sheet is for.
Actually, from what we know from the early reactions to the film, Love sounds like a kinder, gentler Gaspar Noe is on display. Sure, he has said it is intended to "give guys a hard-on and make girls cry"—it's also in 3D by the way—but it sounds like, as explicit as the sex is (and as much of it as there is), the story is less transgressive and more sentimental than you might expect. The plot revolves around three young people—two women and a man—who experiment with drugs, bone all over the place, and otherwise try to navigate the tricky intricacies of a triangular relationship.
The crazy thing is that this isn't even the most graphic poster floating around out there for Love. We're not even going to touch the earlier one that's essentially just a close up of an erect penis, an exposed breast, a hand, and an excessive amount of bodily fluids. We'll let you find that one on your own if you're curious. Interestingly enough, however, that poster is all a marketing ploy, as that image doesn't actually appear in the film and is not of the actors. But don't worry, there will still be enough graphic 3D sex on screen to go around.
There's no relese date for Love yet, but Alchemy did pick up the domestic distribution rights, so if they can find someone to show this, you might be able to check it out in a local theater.
Your Daily Blend of Entertainment News