Water Treatment Plant Employee Fired For Watching A Ton Of Porn During Work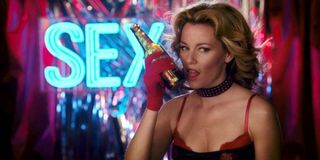 There are plenty of ways to avoid doing work in the office. You can meticulously plan out your trips to the bathroom, and then simply sit there. You can shuffle papers, make small-talk, stalk on Facebook, and play solitaire until the hours and minutes have whittled away until you can depart. Or you can just watch pornographic movies for hours and hours, like this guy did.
According to the Baltimore Sun, a Baltimore native watched 39 hours of pornographic movies in just 10 days while he was employed at a Baltimore water treatment plant. But his employers have come out and insisted that the fact the man was fired for watching pornography is superfluous. Because even if he'd been caught watching classic films like Citizen Kane, The Godfather, Goodfellas, Se7en, or The Breakfast Club while on his shift, he still would have been fired for slacking off from his responsibilities.
However, he wasn't watching these superb films. He was watching porn. A whole lot of porn. In fact, their stats revealed that he spent nearly half of his time at work watching pornography. During one particular day, the individual watched 6 hours and 46 minutes of porn in an eight-hour workday. I didn't even think that was physically possible. Meanwhile the man also watched this XXX content in full-screen mode. This means that he wasn't doing his work while the romping progressed in the bottom corner of the screen. He just wasn't doing his work.
It's been reported that the individual was a maintenance supervisor for the Department Of Public Works, while it has been estimated that his escapades equated to around $1,166 in salary. Officials took action against the man when they started to become suspicious of what he was actually doing at the office. They then uploaded a monitoring software and started to document his porn viewing, before then suspending him in September without pay.
Unfortunately for the man (whose identity has been withheld from publications), rather than doffing their collective caps and admitting to being impressed by his efforts (which they obviously were), his employers took a different approach, and decided that the best course of action would be to fire him. Something that they did on January 20.
But what makes his antics even more incredible is that the individual didn't just download this pornography on his work computer. In fact, rather remarkably, he actually brought in DVDs from home and then watched them on his computer. The amount of pre-planning that went into that rigorous schedule is staggering, and it's almost impressive to learn about a man who is so well in tuned with his body that he knows the exact amount of DVD pornography that he needs to bring with him for the following day in order to satisfy his unquenchable thirst.
It's been reported that the man was "getting away with this for some time," while the city have confirmed that they're still trying to figure out whether to recoup his wages through litigation. I can only imagine that since he's been fired the man has had pornography playing on a constantly loop in his home as a way to get him through this time of need. Or he's realized that he has a problem and is staving off the stuff for the time being. Hopefully it's the latter.
Your Daily Blend of Entertainment News
Your Daily Blend of Entertainment News
Thank you for signing up to CinemaBlend. You will receive a verification email shortly.
There was a problem. Please refresh the page and try again.