Need For Speed 2 Is Happening, Somehow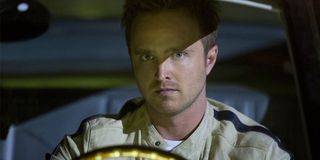 By any standard, 2014's Need for Speed was the cinematic equivalent of a fiery high-speed crash into a concrete wall. What was to serve as the big-screen post-Breaking Bad coming out party for Aaron Paul would become one of the biggest would-be franchise let-downs and yet another video game-inspired property that failed to find itself worthy at the box-office. However, seemingly defying economic logic, it is now being reported that a sequel is actually in the works!
According to Deadline, the Chinese seem to recognize franchise potential in Need for Speed, as companies Jiaflix, China Movie Channel and 1905 Pictures are making plans to collectively develop the potential sequel to the 2014 pedal-pushing box-office dud. While the property itself is not exactly a shining beacon of guaranteed box-office dollar signs, it seems likely that the companies are looking to strike while the iron of the Fast & Furious franchise is white hot in a fashion thematically similar. When one considers the $392 million opening weekend business of Furious 7, the news comes as somewhat less of a surprise.
In fact, despite the abysmal performance of Need for Speed in the domestic market with $43.5 million -- not even coming close to making back its $66 million budget -- the film's foreign tally was a bit more impressive, adding $159 million to the pot. ($66 million of which came from the China market.) Viewed through that collective $203 million lens, it's even easier to see why the trio of Chinese companies may be interested in possibly "buying cheap" into this somewhat fallen franchise. With a bombardment of slick marketing and the same kind of China-centric commercial tie-ins that the trio of companies instigated when it helped financially back Transformers: Age of Extinction, and Need for Speed 2 could be propped up as a possibly lucrative cinematic destination to those still feeling the adrenaline pumping in their systems left over from Furious 7.
At this point, no details have been revealed regarding the cast, creative forces or production plans. However, DreamWorks studio is reportedly awaiting a proposal from the Chinese company trio. Considering the way the film is being propped up, we could see some critical changes. While the underperforming first Need for Speed film was marketed as a vehicle for Aaron Paul, it would become a "one strike and you're out" stint on top of the blockbuster marquees for the former co-star of TV's Breaking Bad. Seeing as Paul's name and the character he played in the first film isn't necessarily vital to the appeal of the property itself, we could very well see a complete shift in the sequel.
Consequentially, there is a distinct possibility that the Chinese companies are only looking to utilize the Need for Speed branding, which also still carries some weight due to the popular Electronic Arts video game series. Plus, like the first film, it could also sell itself as a mindlessly fun 3D spectacle. Could this mean that when this Need for Speed follow-up does ultimately manifest, that it will simply be a sequel in name-only?
Your Daily Blend of Entertainment News
Your Daily Blend of Entertainment News
Thank you for signing up to CinemaBlend. You will receive a verification email shortly.
There was a problem. Please refresh the page and try again.