The Nemesis Comic Book Adaptation May Happen If This Movie Makes Money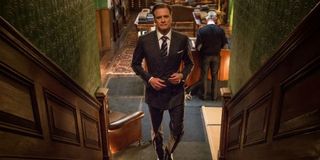 There has been talks of Mark Millar's fan-favorite comic book, Nemesis being adapted into film for years. Big names have been attached from Johnny Depp to Liam Neeson, and almost five years after the idea of a live-action film based on the book first came up, there is now a stronger chance that it could actually come to be. Well, that is if Mark Millar's latest comic book adaptation, Kingsman: The Secret Service does well at the box office.
Kingsman: The Secret Service already has high praise from critics, and while it will have major competition at the box office this weekend (Fifty Shades of Grey is also releasing) it'd be more surprising if it doesn't do well. The star-studded cast is enough to turn you onto the movie, featuring Colin Firth, Samuel L. Jackson, Michael Caine, Mark Strong and newcomer Taron Egerton who shows great promise. Plus the film is directed by Matthew Vaughn who has already shown off how well he can bring comic books to film with his work on Kick-Ass and X-Men: First Class.
With the Kick-Ass film franchise on hold, Millar hopes to get some of his other work out on the big screen. In a recent interview with Red Carpet TV, he admitted that while Nemesis may not be the immediate pick of the lot, a successful debut of Kingsman could certainly help it be put into fruition:
Nemesis a four issue comic published in 2010 followed the titular supervillain who has similar qualities to The Joker, but the resources of Batman. Publicity of the comic teased, "What if Batman was the Joker?" or as Millar expressed in an interview back in 2009. "What if Batman was a total cunt?" The hype surrounding the comic book before it was released was incredible, but upon publication it had mixed reviews. Despite the mixed reviews though, most enjoyed the premise of the Millar and Steve McNiven collaboration, and the rights to the film were immediately swooped up by 20th Century Fox. But the previous setbacks have been many, and while Millar has praised the Joe Carnahan script many times, the film has yet to see any forward progression.
In his same interview with Red Carpet TV, Millar admitted that movie wise, his comics Starlight and Chrononauts are probably next to be filmed, with screenplays currently being written and a hopeful filming start at the end of this year. While all of Millar's comic/film adaptations tend to be bad ass, fans have long-awaited the release of Nemesis and we hope that Kingsman is a big success so it can push the film forward.
But for now, we'll just have to enjoy Millerworld's Kingsman: The Secret Service hitting theaters February 13, 2015.
Your Daily Blend of Entertainment News