O.C. Star May Be Wonder Woman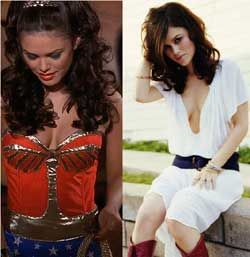 There's another Wonder Woman casting rumor floating around. This isn't the first time a website has claimed to have the inside track on who Joss Whedon is going to cast, and it probably won't be the last. But PR Inside claims that Whedon has picked his Wonder Woman and that it's going to be brunette "O.C." hottie Rachel Bilson.
Apparently Bilson actually wore a Wonder Woman costume in an episode of the O.C. That's her in costume in the image to your right. Hopefully Whedon's makeup team will be able to do a little better if she's really gotten the part.
She's long been one of the names floated around as a possible fit for the role, probably because of that Wonder Woman wearing "O.C." episode more than anything. Warner Brothers hasn't confirmed that she has the part, so until they do consider this just another wild Wonder Woman rumor.
Your Daily Blend of Entertainment News