Paul Dano Will Play Karl Rove In Richard Linklater's Young Republicans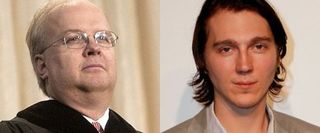 When the script College Republicans topped the 2010 Black List of best unproduced screenplays, Shia LaBeouf's name was already the big name attached, with the young actor showing interest in playing a college-aged Karl Rove. WIth the project now moving forward under Richard Linklater, though, LaBeouf has somehow fallen out, and the always-reliable Paul Dano has jumped in his place. According to The Wrap Dano will be playing Rove in the film that starts shooting in November, about Rove's campaign to be the president of the College Republicans in 1973, a campaign that was managed by an equally young Lee Atwater. Both men went on to be key players in the modern Republican party, Atwater masterminding a number of dirty tricks to help elect George H.W. Bush, and Rove doing much of the same for George W. Bush 15 years later.
Though playing Rove might have been an interesting step for LaBeouf, who's veering dangerously close to just being "that Transformers kid" for the rest of his life, there's no doubt that Dano can knock this out of the park. Beyond his performance in There Will Be Blood, which kind of personified the overly confident and charismatic youth, Dano was one of the few highlights in Cowboys & Aliens, playing the privileged shithead kid of a local cattle baron who terrorizes the locals for fun. I don't care where you stand on your politics-- that's probably exactly what Karl Rove would have done if he'd grown up in the Old West.
Now the key will be finding the right actor to play Atwater-- Rove and Atwater spent five months in 1973 driving around the country for the campaign, so this will be more of a buddy road movie than a political drama, which sounds exactly why Linklater is the right guy to do it. I mentioned last December when College Republicans made the Black List that the project might not mean good things for the planned Atwater biopic that Anchorman director Adam McKay and In the Loop writer Jesse Armstrong were planning. With College Republicans going into production it's looking even less likely that McKay's movie will happen, which means Linklater really, really needs to get Atwater right. I'm drawing a blank trying to think of appropriately weaselly, charismatic, Southern actors who could pull off the part. Any of you guys want to chime in with ideas?
(Paul Dano photo credit: Debby Wong/ Shutterstock)
Your Daily Blend of Entertainment News
Staff Writer at CinemaBlend