Paul Walker's Brother Lands His First Major Acting Role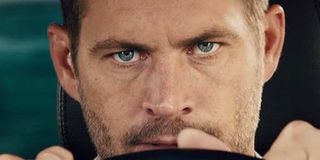 It appears that the film legacy of the late Paul Walker will keep the engines of its proverbial muscle cars roaring. It is being reported that Cody Walker, the brother of the late Fast & Furious franchise star, will be stepping into the cinematic spotlight for the very first time in an upcoming World War II naval drama starring notable names like Nicolas Cage, Tom Sizemore and Thomas Jane.
According to a scoop by Deadline, Cody, the 26-year-old youngest of the Walker siblings consisting of three brothers and two sisters, will make the career transition from being a certified paramedic to stepping in front of the camera for the historical war drama, USS Indianapolis: Men of Courage. The role will be the first credited acting appearance for Cody, who, along with brother Caleb, aided the completion of the recent mega-hit sequel, Furious 7 by serving as stand-ins for their late brother, who was tragically killed in November of 2013. (Cody is pictured below on the far right, along with brother Caleb, and Vin Diesel.)
While details regarding Walker's role have yet to be revealed, the premise of the film is something that belongs to the annals of history. Indianapolis will focus on the fate of the titular battleship which delivered enriched uranium components for Little Boy, the atomic bomb that would eventually be dropped on Hiroshima, emphatically putting an end to Japan's war effort, serving as the tragically devastating denouement to World War II. The delivery would be the vessel's last contribution to the war effort, since it was subsequently torpedoed by Japanese submarines, sinking the 610-foot-long vessel in just 12 minutes. The initial catastrophe left 896 of the 1,196 man crew treading water for three and a half days in the Pacific, where they fell victim to several dehydration-connected maladies, and, as Jaws character Quint famously mused, shark attacks. By the end of the ordeal, only 317 men ultimately survived.
Based on the few available details on the project, the film will be carrying some grandiose ambitions, with reports indicating that preparations such as a set containing a 500,000 gallon water tank, expensive animatronic sharks (presumably without "frickin" laser beams attached to their heads,) and certainly loads of CGI effects. Director, Mario Van Peebles, a veteran actor in his own right, will be upgrading a directorial repertoire that turned heads with 1991's New Jack City, along with television work on Lost, Law & Order and Boss. However, his recent tenure behind the camera for an upcoming episode of TNT drama, The Last Ship might have been the proper military maritime warm-up for what could be an epic cinematic event with Indianapolis.
Being one of two projects in the works about the Indianapolis, this one's narrative approach to the historical incident is not yet known. Nicolas Cage will star as Captain Charles B. McVay, who, upon managing to survive the entire ordeal, faced a court martial in which he was accused of failing to implement evasive maneuvers. However, a boring courtroom is unlikely to be a prominent setting, considering the idea that so much preparation will be taken for the scene in which the primary cast is left aquatically adrift. More likely, an elaborately constructed torpedoing scene will tonally transition to some serious survival drama elements in chummed waters. Thus, for Cody Walker's sake, let's hope he's a solid swimmer.
Indianapolis: Men of Courage will hit showcase its shark-strewn oceanic scenery at theaters on a date to be determined in 2016.
Your Daily Blend of Entertainment News
Thank you for signing up to CinemaBlend. You will receive a verification email shortly.
There was a problem. Please refresh the page and try again.