Paula Patton Does Another Rom-Com With Jumping The Broom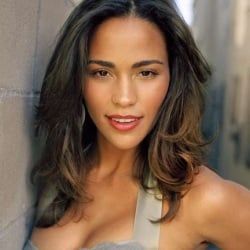 Paula Patton is doing the rom-com thing on screens right now in Just Wright, where she's the cynical pretty girl who gets in the way of Queen Latifah's and Common's romance. But an actress as magnetic as she is was bound to get a starring role of her own, and it looks like it's happening this summer. THR reports that Patton will star in Jumping the Broom, which starts shooting shortly in Nova Scotia.
Set during a weekend wedding on Martha's Vineyard, Broom finds two African-American families from opposite economic backgrounds clashing when, presumably, a member of each family is getting married to the other. Patton will play the head of rich family, which I guess means she won't be the one getting married. If you haven't seen Just Wright you'll probably recognize Patton as the kind, ludicrously named teacher Blu Rain from Precious; even if Jumping The Broom doesn't sound like it's your speed, you'll probably be seeing plenty more of Patton in the future anyway.
Your Daily Blend of Entertainment News
Staff Writer at CinemaBlend