Planes, Trains And Automobiles Gets A 25th Anniversary Blu-ray Release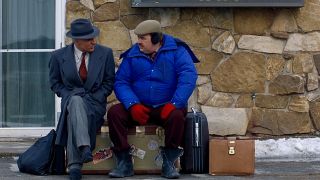 (Image credit: Paramount)
About a year ago, the popular comedy film Planes, Trains, and Automobiles was released for the first time on to Blu-ray. Best Buy had exclusive copies of the film, and as you should already know, Best Buy movies don't usually go for cheap. Although copies subsequently appeared on Amazon, on November 6, Planes, Trains, and Automobiles is coming to Blu-ray in an official 25th Anniversary Blu-ray wide release.
I literally grew up with Planes, Trains, and Automobiles, a movie that came out two months after my birth, and that became funnier and more meaningful as I grew up to understand the ramifications of Candy's character, Del's, situation and how he just wanted a place to belong during the holidays. Plus, Steve Martin's in this film, and it's a heartwarming holiday movie. It's really kind of a shoe-in for a movie collection, although it's probably not worth re-buying on Blu-ray if you already own a copy.
One of the bonuses to Best Buy getting the exclusive release early is that we've already done a review of the set. The bonus features are fine enough and you can check out the full list, below.
Planes, Trains, and Automobiles Blu-ray Extras
John Hughes: Life Moves Pretty Fast (HD)
John Hughes: The Voice of a Generation
Heartbreak and Triumph: The Legacy of John Hughes
Getting There is Half the Fun: The Story of Planes, Trains And Automobiles
John Hughes for Adults
A Tribute to John Candy
Deleted Scene—"Airplane Food"
The Blu-ray cover art features the classic shot of an unkempt John Candy with his arm around Steve Martin's character, who is clearly displeased by the turn of events. Planes, Trains, and Automobiles doesn't look like it will be a night-altering Blu-ray release, but if you don't own a copy of the film, now might be the time to purchase one.
Your Daily Blend of Entertainment News