Play The Raid 2 As An 8-Bit Game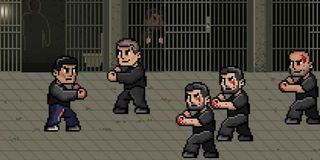 Goodbye productivity! Hello The Raid 2 distraction! I hope you didn't have plans to be a useful member of society this week, because an addictive and free video game has surfaced online that will kill any hope of that. Kill it with a hammer!
The Short List has shared a spectacular 8-bit game version of The Raid 2. The design is a perfect blend of the very violent movie's iconography (from weapons, to heroes, and grim backdrops) and the style of old school video games where arrow keys and a couple of attack buttons were all you needed. You can see some screengrabs of this clever bit of promotional fun below, including a look at the leader board and which of The Raid 2's characters you can control.
At the character select screen, you can choose from one of four heavy-hitters form The Raid 2. Your first option is obviously good cop Rama, who has gone undercover to infiltrate a Jakarta crime syndicate to sniff out police corruption. Like in The Raid 2 and The Raid: Redemption, Rama's weapon of choice is his fists of fury and feet of face-kicking. He can also jump, a move not offered to all heroes.
Your second option is Hammer Girl, a character who ignited the imaginations of fans as soon as she surfaced in the film's trailer. She fights with hammers, naturally. But don't mistake her cute white dress as a sign of weakness. Girl is a bloody brawler, both in that she is badass, and covered in other peoples' blood.
The third hero offering is Baseball Bat Man. Brother to Hammer Girl, he's a hitman just as deadly with his bat or a baseball. Take your pick in attacks as you work your way through the prison level.
Last but not least, The Raid II video game offers you a chance to step into the tattered shoes of Prakoso, a homeless assassin who shouldn't be underestimated. Like Rama, he has three modes of attack--thanks to his trusty and blood-caked machete--and the ability to leap into his attacks.
To play the game click here :
Do you think you can topple those on the leader board?
The Raid 2 is now in theaters.
Your Daily Blend of Entertainment News
Staff writer at CinemaBlend.