Poseidon Drowns New Victims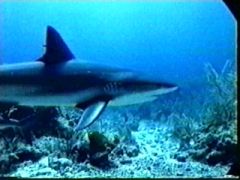 If there's anything that Jaws, Open Water, and A Perfect Storm have taught us, it's that the deep blue sea simply does not like us. It will happily capsize boats we are riding, drag us underneath to be assaulted by sharks, and take any drastic measures necessary to encourage us to stay on dry land. Of course, we never heed this warning; where's the fun in that?
Hollywood Reporter reports The Poseidon Adventure is the latest film to explore the sea and ensure that business in funeral homes stays booming. A remake of the 1972 thriller starring Gene Hackman, the story trails the survivors of the S.S. Poseidon, a cruise ship that gets capsized by a tidal wave. Trapped inside, they encounter many obstacles in order to work their way to the surface of the ship for survival. Sounds like a party, but without the complimentary cheese dip.
Warner Bros. Pictures is handling Wolfgang Peterson's big-budget remake. The cast will include Kurt Russell, Emmy Rossum, Richard Dreyfuss, and Mike Vogel. Andre Braugher may be joining the cast shortly, if all goes according to plan. Russell will play an ex-fireman traveling with his daughter (Rossum), her boyfriend (Vogel), and a gay man nursing a broken heart (Dreyfuss). Mark Protosevich and Akiva Goldsman have written the screenplay.
Production begins on June 18, and the remake is scheduled for May 5th. Be sure to bring your lifevest and a clean pair of socks. There's nothing worse than soggy socks.
Your Daily Blend of Entertainment News
Thank you for signing up to CinemaBlend. You will receive a verification email shortly.
There was a problem. Please refresh the page and try again.