Poster For District 13: Ultimatum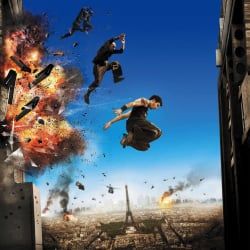 I've never been able to rave enough about District B13, the French action film that introduced the world to Taken director Pierre Morel and used parkour better than pretty much any other movie has since. It's not really the kind of movie that begs for a sequel, being that it's a short and sweet 80 minutes long and ties everything up at the end. But now that a sequel exists, I'm not going to complain.
District 13: Ultimatum has Cyril Raffaelli and David Belle returning in the lead roles as the reformed gangster and the cop trying to keep the peace in the notorious B13, where gangs still rule and, once again, there's a threat of the government simply wiping the whole place off the map. It's not directed by Morel, which is a disappointment, and let's face it, it's not likely they'll once again capture the same level of schlock magic. Still, it'll probably be mighty fun to look at. Below is the full synopsis, and below that, the full poster. District 13: Ultimatum comes out VOD on January 1st, and is in theaters February 5.
Your Daily Blend of Entertainment News
Staff Writer at CinemaBlend