The R-Rated Batman V Superman Cut May Be Coming To Theaters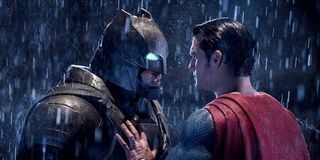 At 151 minutes, Batman v Superman: Dawn of Justice is one of the longest superhero movies ever. Giving moviegoers a main story and plenty of Easter Eggs, the movie essentially paved the way for the expansive DC Extended Universe following 2013's Man of Steel, but there was still a fair amount that didn't make it into the theatrical release. Some of that material is being saved for the R-rated "Ultimate Edition" home media release, but now there's word that this three-hour cut might makes its way to the big screen first.
On the latest episode of Heroic Insider, co-host Umberto Gonzalez brought up the rumor that Warner Bros is considering releasing Batman v Superman: Dawn of Justice's "Ultimate Edition" in theaters before it comes out on Blu-ray, digitally, etc. While it's unclear how many people would see that in theaters, it definitely would add a little extra green to the movie's haul. The "Ultimate Edition" was originally reported to be released on July 16, but that date was later debunked by Warner Bros. That said, given the common intervals nowadays between when a movie is released in theaters and when it's released on home media, we can reasonably guess that fans will be able to own Batman v Superman: Dawn of Justice sometime in July or August, maybe September at the latest.
As of this writing, Batman v Superman: Dawn of Justice has earned over $723 million worldwide, but it's struggling to reach the $1 billion mark. While it's doubtful the "Ultimate Edition" would push the blockbuster past that mark, considering how many passionate supporters his movie has, you can bet a sizable chunk of them would give that version a watch in theaters, whether it's to see more action or to fill some gaps that the original left open. However, considering the many negative reviews the current Batman v Superman: Dawn of Justice cut has received over the last two weeks, Warner Bros might have trouble getting regular moviegoers to see it, especially with a three-hour runtime.
The main reason for the "Ultimate Edition" being rated R is mainly for more intense and violent sequences. However, it will also include some people who were cut from the story, including Jena Malone's character, who is said to be Barbara Gordon. Some of the criticisms that have been directed towards Batman v Superman: Dawn of Justice have been plot hole-related, so perhaps this new version will answer any lingering questions viewers have, whether they see in theaters first or in the comfort of their own home.
Whether it's released on the big screen first or directly on him media, you'll have to wait until later this year to watch Batman v Superman: Dawn of Justice's "Ultimate Edition," but the main cut is currently playing in theaters.
Connoisseur of Marvel, DC, Star Wars, John Wick, MonsterVerse and Doctor Who lore. He's aware he looks like Harry Potter and Clark Kent.
Your Daily Blend of Entertainment News
Thank you for signing up to CinemaBlend. You will receive a verification email shortly.
There was a problem. Please refresh the page and try again.