Rashida Jones Rumored For Ant-Man's Janet Van Dyne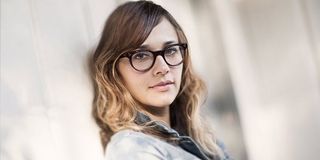 There's been no confirmation yet, but there are some strong rumors and some telling language from Marvel Studios President Kevin Feige that suggest Paul Rudd could very well be playing Ant-Man a few years down the road. And while it's a little crazy to barge ahead with one more rumor while that one's still forming, we can't help it-- the very fuzzy rumor emerging today about who might play Janet Van Dyne is too good not to discuss.
Yes, we said Janet Van Dyne-- according to this anonymously-sourced rumor at Superhero Movies News, The Wasp won't be a part of Ant-Man, but her alter ego Janet Van Dyne will, and the actress at the top of their list to play her is Parks & Recreation's Rashida Jones. The Parks connection means she and Paul Rudd have worked together before, him as the buffoonish City Council candidate Bobby Newport and her as the sensible Ann Perkins, and they were also co-stars in the indie Our Idiot Brother. It's reportedly Jones's chemistry with Rudd that has director Edgar Wright and Marvel eyeing her for the Janet Van Dyne part, but it's likely she'll be doing a lot more than just hanging out with Ant-Man in future Marvel installments--the rumor says that Ant-Man will contain many references to Janet's future as The Wasp.
Worth noting: this site has no track record for scoops whatsoever; all they're willing to tell us about their source is that he or she correctly predicted that Paul Rudd would be cast as Ant-Man-- which, again, is news that hasn't been confirmed yet. So treat this Jones news not so much as "likely fact" but "fodder for speculation" for the time being.
In the comics Janet Van Dyne and Ant-Man (a.k.a. Hank Pym) are founding members of The Avengers, a team who eventually got married in the series and get their powers from the same "Pym particles" invented by the hero of Edgar Wright's upcoming film. Fans of the Avengers comics have wondered for a while when The Wasp would finally pop up in the Marvel Cinematic Universe, and given The Avengers director Joss Whedon's long history of emphasizing strong female characters in his work, plenty of people had assumed that it would make room for The Wasp in The Avengers: Age of Ultron. So far that extra female presence seems to be coming from Scarlet Witch, but the introduction of Ant-Man meant that The Wasp wouldn't be far behind. We have no idea how true it is that Jones will play the part, but she does seem like a good fit, if indeed it's Paul Rudd who will be stepping into Hank Pym's lab.
As exciting as it is that Ant-Man is finally gearing up for production, it remains a good ways off, scheduled for a July 31, 2015 release date, just two months after the release of The Avengers: Age of Ultron. That means that, even while we're still trying to sort through the endless Ultron rumors, there are now Ant-Man stories to add to the pile. The expansion of the Marvel Cinematic Universe may be exciting, but it's sure making a lot of headaches for the rumor police.
Your Daily Blend of Entertainment News
Staff Writer at CinemaBlend