Ray Stevenson Could Be The Punisher Again, Has Talked With Marvel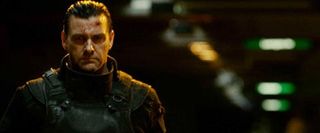 Punisher: War Zone may have been a bit of a financial and critical bust back in 2008, but some of the folks over at Marvel not only think The Punisher still has appeal, but War Zone's star, Ray Stevenson, too. While promoting his upcoming film, Kill the Irishman, Stevenson talked about the fact that Marvel has reacquired the rights to the vigilante superhero from Lionsgate, allowing them to go ahead with a new Punisher film if they choose to.
Stevenson says that he's even talked with Marvel about doing another Punisher but admits, "It's way out of my hands." If the opportunity arises though, he'd love to reprise his role as Frank Castle. He says, "If it's on my path to do him again, I'll definitely do my best."
Regardless of whether or not a new Punisher film ever takes off with Stevenson in the lead, the guy's got quite a busy schedule ahead of him. Stevenson stars as Volstagg, one of The Warriors Three, in the upcoming film Thor. In true comic book-to-film adaptation fashion, the hope is to turn the movie into some sort of multi-picture vehicle and sure enough, Stevenson revealed he signed a three-picture deal. However, he did also mention that the right to exercise that contract is out of his hands. Stevenson noted that this relies heavily on how Thor is received as well as the rest of the films under the Marvel umbrella. "It may be that The Warriors Three, you know, gets seen in [The Avengers] or in a different place or indeed that story roles into a different direction."
Need a little more Stevenson in your life? He also talked a bit about another upcoming potential blockbuster he's involved in, Paul W.S. Anderson's The Three Musketeers due out this October. Beyond that, the guy's got options, but is general thrilled with being in a solid state in terms of his career. "I'm at that position now whereby it's who I work with next," he explained. "I've got enough work now where people can see that I can change." Before wrapping up, Stevenson got a laugh out of the idea that he could go as far as playing a midget.
Clearly that joke was a "you had to be there" type of thing, so why not check out the chat for yourself? See what Stevenson had to say about The Punisher, Thor and his upcoming films in the excerpt from our interview below:
Keep an eye out for our full interview with him on Kill the Irishman later this week.
Staff Writer for CinemaBlend.
Your Daily Blend of Entertainment News
Thank you for signing up to CinemaBlend. You will receive a verification email shortly.
There was a problem. Please refresh the page and try again.