The Real Reason Hugh Jackman Is Done With Wolverine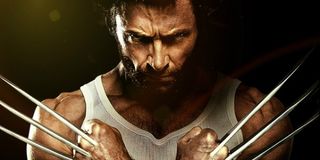 After spending more than a decade playing legendary comic book character Wolverine, Hugh Jackman has announced he'll walk away from the hero after Wolverine 3. Since the announcement, fans have searched for the real reason behind the decision, and recently, Jackman finally answered. Apparently, it's not about money or time. It's actually about food. That's right. Food.
While attending the premiere of his documentary, Dukale's Dream, Hugh Jackman made a comment to ET about his Wolverine character, and the work that went into keeping his look. And Jackman teased that the real reason he decided he was done, was all in his gut:
Seriously though, can you blame him? The guy has been keeping his Wolverine build for 17 years now, and that does not come without serious work. It's pretty impressive though, for a guy of 46 years old to be showing up even some of the youngings that have just graced the X-Men franchise. His gut may be craving some sweets, but the egg whites sure did pay off.
In all seriousness, Jackman has previously stated that it was just about that time. He never thought his portrayal of the character would even last this long, and though he doesn't look much older than the first time we saw him take the big screen as the brooding Logan, in 2000's X-Men (aside from the less defined Wolverine hair), the actor himself is getting older. And can not stay looking like this forever.
It'll be sad to see Jackman go from the franchise, and hopefully there will be some time to mourn before a new Wolverine is added to the mix. But for now, we have a few more appearances to look forward to. Jackman is rumored to appear in X-Men: Apocalypse though it will most likely be brief. Then Wolverine 3 will likely hit theaters on March 3, 2017. There are no plot details divulged quite yet other than it not taking place in a time seen in any of the previous X-Men or Wolverine films. Rumors of Patrick Stewart reprising Professor X have been a definite highlight, and it could mark the end of the X-Men universe created by Bryan Singer.
Your Daily Blend of Entertainment News