Red-Band, NSFW Hot Tub 2 Trailer Proves Sequel Is Going To Be Filthy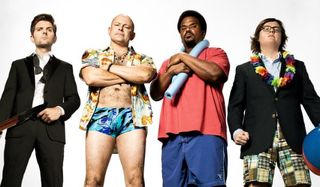 If you thought Hot Tub Time Machine was raunchy, the latest Hot Tub Time Machine 2 trailer gives us a peek at the even more ridiculously inappropriate sequel. Be warned, if you're not in a secure place to view topless women or hear jokes about how a bald Clarke Duke looks like "Michael Chiklis fucked Big Daddy Warbucks who fucked Lex Luthor," then you should hold off for a while. Yeah, it's pretty NSFW.
The latest Hot Tub Time Machine 2 trailer is short enough to take up a brief TV spot but packed with enough cusses, inappropriate jokes (one about cancer patients), drug use and boobs to last you the weekend. Not much is really all that new, though. The sequel sees the return of buddies Lou (Rob Corddry), Jacob (Clark Duke) and Nick (Craig Robinson), as they head into the future. Since the first film, they've all risen to the top of their respective fields, thanks to using intimate knowledge of history to manipulate the past. Now, the hot tub whisks them 10 years down the road in order to stop an unknown assailant from shooting and killing Lou.
According to the official plot synopsis, "they have to alter the future in order to save the past…which is really the present" — which is really just a load of nonsense. It kind of blows my mind that there we now have two movies about a hot tub time machine…but I guess it's no crazier than that Japanese film about a bath house time machine. I'm also not sure whether or not to appreciate the fact that the makers of Hot Tub Time Machine 2 are confident that we'll have hover boards, Minority Report-style computerized screens, and a suicide-preventing, cushioned forcefield by 2025. Our technology is quickly advancing, but that fast?
At least this one has Adam Scott, who's joining the gang on their journey through time as a man named Adam Yates Jr. He seems to be just as doofy as Ben in Parks and Recreation (which makes us happy because we're just not ready to see the show come to an end). Aside from the main boys, Hot Tub Time Machine 2 also features Steve Pink in the director's chair and roles for Community stars Chevy Chase and Gillian Jacobs. That coupled with some of the enjoyably specific gags and comedic timing, as previewed in this trailer, it seems like this could be an enjoyable ride.
Your Daily Blend of Entertainment News