Reese Witherspoon Takes On Wall Street In Comedy Opening Belle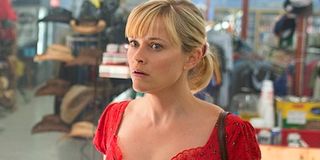 It appears that Reese Witherspoon could soon be returning to form as a type of charming, inspiring eccentric trying to carve out a piece of the American Dream pie. The actresses is now in line to star in a comedy called Opening Belle, playing an overworked mother of three who is trying to prove herself on Wall Street just before an impending economic collapse.
According to a report from Tracking Board, Witherspoon's production company, Pacific Standard, will have the actress starring in Opening Belle, which will apparently be a lighthearted charmer, despite a seemingly bleak scenario. In fact, the homonym highlighting the title is all the indication one needs to see that Witherspoon will be channeling her charming, fish-out-of-water, Elle Woods-esque persona.
Opening Belle is based on a yet-to-be-released novel of the same name by author Maureen Sherry Klinsky and is set to hit stores later this year. Witherspoon will potentially play a character based on the author's real life experiences working on Wall Street as a managing director at Bear Stearns. The experience would become especially relevant during the story's 2007 setting and against the backdrop of the notorious subprime mortgage crisis that practically sunk the nation's top lenders, prompting costly federal bailouts. Exactly how the comedic aspect will come to play in this quasi-biographical film remains to be seen. However, it's bound to be full of one-liners and sidesplitting culture shock moments.
Witherspoon, along with regular collaborator Bruna Papandrea, will be producing the film. Interestingly enough, Witherspoon's track record as an actress has been spotty as of late; especially as she looks to step away from the recent mulligan of a movie that teamed her up with Sofia Vergara, Hot Pursuit. Yet, her growing resume as a movie producing mogul (despite that also including Hot Pursuit) is starting to take shape as an impressive second career. This is especially true after her involvement last year with David Fincher's monstrous mystery hit, Gone Girl.
Supplementing that point, Witherspoon's Pacific Standard has several other notable projects on its plate that seem to be bucking the recently focused trend highlighting diminishing key roles for women. The company will adapt a project called Luckiest Girl Alive, based on a novel by Jessica Knoll that explores a young professional's deep dark secret that soon surfaces with potentially deadly results. Additionally, they won a bidding battle against Fox to produce Ashley's War, a military drama about female soldiers embedded alongside a special ops outfit in the war on terror's Afghanistan theater.
Of course, Opening Belle will be courting a rather specific audience that enjoys Reese Witherspoon's more assiduously eccentric side shown in films like Election, Legally Blonde and yes, even Hot Pursuit. It could be there for her, especially if the tone of the film manages to keep things light and the focus stays on the idea her character viewing the avarice-addled insanity of Wall Street through a humorously objective way that doesn't delve too far down a rabbit hole of righteousness. Hollywood has already essentially sucked that finger-wagging well dry as a bone.
No details have yet been released regarding when Opening Belle begins production or will see release.
Your Daily Blend of Entertainment News