Reese Witherspoon And Nicole Kidman Are Heading To HBO For New Drama Series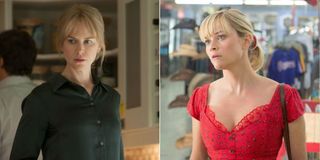 Could Reese Witherspoon and Nicole Kidman be the next dynamic duo? The Oscar winners are teaming up for a new David E. Kelley series Big Little Lies, headed to HBO
HBO just picked up a limited series package of Big Little Liars, co-starring Reese Witherspoon and Nicole Kidman and written by Emmy Award winner David E. Kelley. According to Deadline, the limited series received a huge vote of confidence from the premium cable network with a straight-to-series commitment just six months after it was first put together. True Detective, co-starring Matthew McConaughey and Woody Harrelson, was the only other high profiled show to receive the same treatment, which bodes well for the show as far as the network's expectations are concerned.
Big Little Lies is reportedly a subversive comedy centered on three mothers of kindergartners whose perfect lives begin to unravel to point of murder. Big Little Liars, is based on the novel of the same name by Liane Moriarty, a signature mark for Witherspoon's Pacific Standard Production company. Reese Witherspoon and her business partner Bruna Papandrea from Pacific Standard will serve as co-executive producers alongside Nicole Kidman and her business partner Per Saari from Blossom Films. David E. Kelley of David E. Kelley Productions and book author Liane Moriarty will also executive produce the limited series.
Until production gets underway for the HBO series, both Witherspoon and Kidman have their hands full with other projects. Just recently, Reese Witherspoon's production company Pacific Standard released its fourth film, Hot Pursuit, co-starring Witherspoon and Sofia Vergara. The action comedy, directed by Anne Fletcher and co-written by David Feeney and Don Quaintance, is performing moderately well during its opening weekend grossing nearly $14 million at the box office. Not bad for a Mother's Day weekend, especially with competition like Avengers: Age of Ultron still dominating ticket sales all around the globe.
Witherspoon's future Big Little Lies co-star, Nicole Kidman, has also been quite busy as of late. The Oscar winner, for the second year in a row, will star in three films: Strangerland, Queen of the Desert and The Secret in Their Eyes. Her first film this year, Strangerland, is a drama-thriller centered on a couple who discover that their teenage children have disappeared just before a massive dust story sweeps through their desert town. Queen of the Desert, however, is an epic biopic about the life of British traveler, writer, archeologist, explorer, cartographer and police officer Gertrude Bell. Her final project to be released this year is the crime thriller The Secret in Their Eyes, which centers on a retired criminal investigator who begins writing a novel about a previous case that leads him to a shocking realization. With Oscar heavyweights Kidman and Witherspoon, Big Little Liars is on tap to be the next True Detective on HBO.
Your Daily Blend of Entertainment News