19 Denzel Washington Movies To Watch Streaming Right Now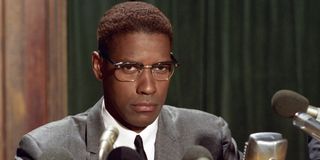 CinemaBlend participates in affiliate programs with various companies. We may earn a commission when you click on or make purchases via links.
There are few actors that take command of the screen quite like Denzel Washington, and the two-time Academy Award winner's 60-plus film and television appearances is a testament to that. It is hard to find anyone that can go bounce from playing a trailblazing high school football coach one year to playing one of the most evil and vile police detectives the next time he's on screen. And there are countless Denzel Washington movies where he's been able to do that.
And while we can't watch all the Denzel Washington movies streaming right now (it couldn't be that easy, right?), there are still plenty of options out there that show us just what he's capable of achieving. So, without wasting any more time or trying to figure out why Training Day isn't streaming anywhere, here are 19 Denzel Washington movies you can watch right now, or in the case of The Little Things, very soon.
The Little Things - HBO Max Starting January 29
It won't be available for a few more days (and then it will only be around for 30 days), but The Little Things, John Lee Hancock's gritty crime thriller starring Denzel Washington and Rami Malek as two investigators hunting down a vicious serial killer played by Jared Leto will be on HBO Max starting January 29. In the film, Washington plays Joe "Deke" Deacon, a Kern County Deputy Sheriff with a knack for catching criminals, but a troubled, and potentially troublesome past.
Stream it on HBO Max starting January 29. Watch the trailer here (opens in new tab).
Remember The Titans - Disney+
Disney's 2000 biographical sports drama Remember the Titans follows Coach Herman Boone (Denzel Washington) as he finds himself leading a newly integrated Virginia high school football team to the state championship game following a historic season fought both on and off the gridiron. This story is about the relationships of the players and coaches as they become more than a football team as much as it is about anything else.
Stream it on Disney+ here (opens in new tab).
Glory - Starz
Denzel Washington was already a star in the making by the time he took on the role of combative yet prideful soldier Silas Trip in the 1989 Civil War drama Glory, but his performance, which netted him his first Oscar (Best Supporting Actor), sent his career into overdrive.
Stream it on Starz here (opens in new tab).
Philadelphia - Starz
The 1993 legal drama Philadelphia is mostly remembered for Tom Hanks' Oscar-winning performance as Andrew Beckett, but Denzel Washington's portrayal of personal injury lawyer Joe Miller is arguably the heart and soul of the movie. Watching Miller's prejudice fade away as he begins to better understand his client even before the trial begins never gets old.
Stream it on Starz here (opens in new tab).
The Hurricane - HBO Max
Denzel Washington is no stranger to the biographical drama genre, and one of his best happens to the be 1999 sports and legal drama The Hurricane. Based on the real-life story Rubin "The Hurricane" Carter, the movie follows the one-time boxing superstar as he goes from notable athlete to prison inmate after being wrongfully convicted in a triple-murder for which he spent 20 years behind bars.
Stream it on HBO Max here (opens in new tab).
The Pelican Brief - HBO Max
There seems to be a rite of passage in Hollywood that involves up-and-coming stars to appear in a John Grisham adaptation before they reach the next level of their career. And that's very much the case for Denzel Washington and Julia Roberts in 1993's The Pelican Brief. In this tense legal thriller, Washington plays Gray Grantham, a newspaper reporter who helps Roberts' Darby Shaw get to the bottom of an assassination and coverup by the powers that be.
Stream it on HBO Max here (opens in new tab).
American Gangster - Peacock Premium
Ridley Scott's 2007 crime drama American Gangster featured the superb on-screen pairing of Denzel Washington and Russell Crowe (though it wasn't the first) that turned the story of Harlem drug kingpin Frank Lucas (Washington) and his pursuit by narcotics agent Richie Roberts (Crowe) into one of the most engaging cat-and-mouse games to be released this century.
Stream it on Peacock Premium here (opens in new tab).
Virtuosity - Amazon
A little more than a decade before Denzel Washington appeared alongside Russell Crowe in a Ridley Scott-directed affair the pair showed up in the 1995 sci-fi action flick Virtuosity. In this often forgotten thriller, Washington plays Parker Barnes, a former Los Angeles police officer imprisoned for murdering the man who killed his family who is is recruited for a new virtual reality program in which he is tasked with nabbing Crowe's artificial intelligence called SID 6.7. Things get out of hand when the program escapes and poses a threat to anyone who crosses him.
Stream it on Amazon here.
Malcolm X - HBO Max
The first of three Denzel Washington's collaborations with Spike Lee featured on this list is Malcolm X, the epic biographical drama following the life's story of the slain African-American activist. From his youth until the final and tragic moments of his life, Washington's portrayal of the iconic figure remains one of the most personal and powerful performances of his career.
Stream it on HBO Max here (opens in new tab).
He Got Game - HBO Max
Six years after appearing in Malcolm X, Denzel Washington teamed up with Spike Lee again for the 1998 sports drama He Got Game which follows Washington's Jake Shuttleworth, a man recently given a furlough from prison for killing his wife, as he attempts to bond with his son Jesus (Ray Allen) in an attempt to help him get a shortened sentence.
Stream it on HBO Max here (opens in new tab).
Inside Man - Peacock
And then in 2006, Denzel Washington portrayed detective Keith Frazier in the Spike Lee joint Inside Man as he attempts to defuse a hostage situation at a New York City bank only to uncover a deeper and darker side of the story.
Stream it on Peacock here (opens in new tab).
Hard Lessons - Netflix
Long before he was a known entity, Denzel Washington portrayed Los Angeles high school principal George McKenna in the 1986 TV movie Hard Lessons (originally released as The George McKenna Story). Throughout the film, Washington's McKenna tries to keep his students off the streets and in classes, even if it means taking desperate measures.
Stream it on Netflix here (opens in new tab).
The Taking Of Pelham 123 - Amazon
Based on the 1974 thriller of the same name, Tony Scott's 2009 The Taking of Pelham 123 follows Denzel Washington's Walter Garber, a New York City subway system dispatcher, as he attempts to dupe a band of heavily armed criminals led by a mastermind played by John Travolta. With a large ransom demand and a train full of hostages whose lives are in danger, it's up to Garber to bring order to the chaos.
Stream it on Amazon here.
Deja Vu - Amazon
In 2006, Denzel Washington starred in the sci-fi crime thriller Déjà Vu, in which he plays takes on the role of ATF special agent Douglas Carlin as he attempts to travel into the past in order to prevent a devastating terrorist attack before its mastermind, played by Jim Caviezel, can pull off a ferry bombing resulting in the deaths of hundreds of innocent victims.
Stream it on Amazon here.
John Q - HBO Max
In 2002's John Q, Denzel Washington plays a father on the edge of madness after he discovers that his health insurance provider is refusing to cover the cost of the surgery that could save his 9-year-old son. What does John Q. Archibald (Washington) do in the situation? He holds the entire hospital hostage, not for money but to fight for his son's life when no one else will.
Stream it on HBO Max here (opens in new tab).
Courage Under Fire - Starz
There aren't too many movies set during the 1991 Gulf War, but the ones that have been released are pretty remarkable. Take the 1996 military drama Courage Under Fire, which features Denzel Washington as Nathaniel Serling, a lieutenant colonel who is forced to come to terms with his role in the coverup of a friendly fire incident as he attempts to investigate the death of Army captain Karen Walden (Meg Ryan), a case that becomes more complicated as the investigation unfolds.
Stream it on Starz here (opens in new tab).
Much Ado About Nothing - Amazon
There have been more adaptations of Williams Shakespeare's body of work than just about anything else in the world of cinema, and so no one is holding it against you if you forgot that Denzel Washington appeared in 1993's star-studded version of the comedy Much Ado About Nothing. In this version, Washington plays Don Pedro, the matchmaking prince of Aragon who sets out to help Kenneth Branagh's Benedick and Emma Thompson's Beatrice find true love.
Stream it on Amazon here.
The Bone Collector - HBO Max
Based on Jeffery Deaver's 1997 novel of the same name, 1999's The Bone Collector follows Angelina Jolie's Amelia Donaghy, a policewoman pursuing a sadistic serial killer with a little help from a quadraplegic criminologist by the name of Lincoln Rhyme played by Denzel Washington. What follows is a sick and twisted cat-and-mouse game as the two attempt to prevent anyone else from falling victim to the elusive killer.
Stream it on Peacock here (opens in new tab).
Out Of Time - Tubi
In the 2003 crime flick Out of Time, Denzel Washington plays Matt Lee Whitlock, a small town police chief in over his head when he steals a sizable chunk of cash to pay for what he assumes is a life-saving operation for his new girlfriend. But when things go south and all involved parties not named Matt Whitlock disappear, it all falls on the embattled chief of police.
Stream it on Tubi here.
As all these titles show, Denzel Washington is one hell of an actor with an impressive list of credits ranging from crime thrillers to romantic comedies and even his fair share of sci-fi to boot. But like I said back in the introduction oh so many movies ago, it's a shame that Training Day isn't streaming anywhere right now. It's not only the source of one of the greatest movie quotes of all time, but it also netted Washington an Oscar for best actor in a leading role. In the words of Alonzo Harris, King Kong ain't got shit on Denzel.