Ride Along 2 Gets A Release Date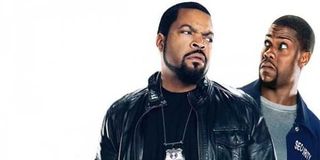 Ride Along 2 is officially a thing, and we're all gonna have to deal with it. Ice Cube is a household name, and Kevin Hart is on the verge of taking over the world. The original movie came and went this January, making off with $140 million in global receipts on a $25 million budget, and while you may not remember the movie all that much, it's probably the only 2014 release your coworker one cubicle over has seen this year, and he or she can quote the lines verbatim. Why not do it all over again?
And now we know exactly when we can see this epic reunion, thanks to Variety. Hart and the Cubester will return in Ride Along 2 on January 15th, 2016, almost two exact years after the first film's release. Tim Story is returning to direct the film, which will shoot this summer and find Cube's James Payton and Hart's Ben Barber bringing along a third recruit on their police escapades. For the sake of continuity, could it please be the gorgeous Tika Sumpter, who played Payton's beautiful sister and Barber's girlfriend? Also returning is producer Will Packer, who has hitched his wagon to Hart with the upcoming The Wedding Ringer.
The only other movie with that release date so far is The Nut Job 2 and… Jesus, talk about Hollywood Xeroxing their stuff. The first Nut Job also opened against Ride Along, and has pulled in less than half of what the cop actioner has grossed thus far. But if the industry had it their way, they would just release the same movie in theaters on the same weekend every single year. Do you think people will notice? Or is there a massive groundswell of fans who remember every single Nut Job plot point and are waiting for resolutions and answers to plot questions?
Story may suffer the indignity of having the two Fantastic Four movies on his resume, but those are two of the four films he's directed that pulled in over $90 million domestically, a pretty good track record. And his last two, both Ride Along and Think Like A Man, may be more impressive, since both were made with smaller budgets and less expectations. Later this year, he's got Think Like A Man Too coming, which could be his third straight blockbuster hit, cementing him as an in-demand name in big screen comedy. Maybe it will give him the clout to do that Dennis Rodman comedy that seems absolutely insane but could be worth a laugh.
Your Daily Blend of Entertainment News
Your Daily Blend of Entertainment News
Thank you for signing up to CinemaBlend. You will receive a verification email shortly.
There was a problem. Please refresh the page and try again.