Ridley Scott's Alien: Covenant Just Added An Unexpected And Hilarious Star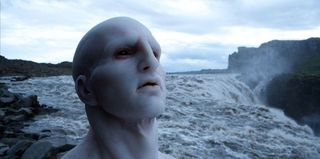 Though it feels like it's been a long time coming, Sir Ridley Scott's Prometheus follow-up, now titled Alien: Covenant to make the connection to those film more explicit, is set to star filming in relatively short order. There have already been a few roles cast, including both new and returning characters, one previous character we know will not show up, and now the cast has added an unexpected actor to the party, Danny McBride.
As a performer, Danny McBride is most known for playing crude, crass characters with a twisted, foul-mouthed sense of humor in movies like This is the End and Pineapple Express, and shows like HBO's Eastbound and Down. But, according to The Wrap, McBride is indeed set to join the upcoming science fiction epic.
There are no details on what role Danny McBride will take in Alien: Covenant, but he joins a call sheet that already includes Michael Fassbender, who will reprise his role as David the android (there have also been rumors that the Steve Jobs star could play a dual role). We recently learned that Noomi Rapace, who plays Doctor Elizabeth Shaw in Prometheus, and who was one of two surviving characters at the end, will not be back for Covenant. Inherent Vice star Katherine Waterston, however, has joined the cast as the so-called female lead, a character named Daniels.
The plot of Alien: Covenant has been kept largely under wraps, but we have had a short synopsis. Set ten years after Prometheus, the action follows the crew of a colony ship called, you guessed it, the Covenant, as they search for a place to settle. When they come across a new world, they think they've found an uncharted paradise, but that is far from the truth. The only inhabitant on this planet is the synthetic David—it's probable that Elizabeth Shaw has died at some point over the last decade, as space is a tough place to survive for a human being who need to do things like breathe and eat—and the crew finds much more than they bargained for.
Given what we know, it seems likely that Danny McBride will be a member of the crew on board the Covenant. This will be something of a change for the actor, who is primarily known for comedy. He has done some more dramatic roles, including a couple of William Faulkner adaptations with James Franco (As I Lay Dying and The Sound and the Fury), but nothing on this scale. But don't worry, McBride fans, I'm sure there will be room for the curly-headed actor to stretch his comedy muscles as well, there's always a place for a smart-ass crewmember to crack jokes before becoming Xenomorph fodder. I bet he has a big gun, too.
Production on Alien: Covenant is slated to begin in Australia later this year, and it is scheduled to hit theaters on October 6, 2017.