Robert Downey Jr. Reveals Why He Bailed On Gravity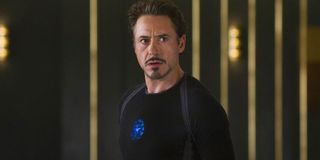 Robert Downey Jr. isn't hurting for cinematic hits these days, especially with the wide release of Avengers: Age of Ultron in a few days. However, the actor actually missed an opportunity to be one of only two primary stars of 2013's $716 million-grossing, awards-reaping hit, Gravity. Downey just revealed why he walked away from what turned out to be an innovative, lucrative filmmaking achievement.
In a recent interview on The Howard Stern Show, Robert Downey Jr. sat down to candidly discuss a number of things, like his recent awkward interview walkoff. The range of topics also included the story of his exit from Gravity, and a role that would go to George Clooney, who starred opposite Sandra Bullock. Apparently, filming the sublime, space-survival picture in 3D entailed some annoyingly tech-heavy conditions that he could not tolerate. According to Downey:
For Downey, who has spent a significant portion of his esteemed acting career in a bulky superhero suit as Iron Man, and is no stranger to extensive CGI, the demands of Gravity were more troublesome than they were worth. His story corroborates what director Alfonso Cuarón has said about how the logistics quickly became a hindrance to Downey's ability to perform. Thus, it seems that in a very un-Tony-Stark-like way, Robert Downey Jr., the cinematic Science Bro couldn't get acclimated to working with the production's array of unorthodox technology.
Downey's reservations are understandable as the film proved to be a dauntingly demanding shoot, despite the deceptively minimalistic nature of the story, which only contains two on-screen characters. From the difficulties of the space-walk scenes to the claustrophobic capsule sets in which the film mostly took place, each shot was the product of intricately micromanaged planning in every conceivable aspect. The production ended up becoming a technical challenge for all parties involved as the zero gravity environments entailed an adjustment to the unorthodox, vertigo-inducing idea of performing in front of a blue-screen strapped to a rig, while robotic arms moved the camera orbits around erratically.
Of course, that crucible of a shoot proved rewarding to endure, since besides its lucrative box-office performance, the film went on to win several awards, notably Best Director wins at the Oscars, BAFTAs, and Golden Globes for Cuarón. However, for Downey, ceding his Gravity role to George Clooney might seem like a missed opportunity, but he was clearly at his wit's end with the process. In fact, expressing no regrets, Downey reiterated in the Stern interview that the filming exceeded his boundaries, saying, "you've got to leave before you flip out."
Your Daily Blend of Entertainment News