Rose McGowan Cast In Conan, But She's Not Red Sonja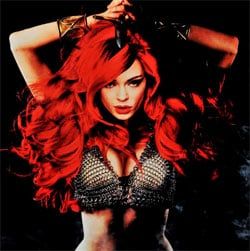 It was just a couple of years ago that Rose McGowan announced she'd be starring in a Conan spin-off called Red Sonja. I've even got the t-shirt. Red Sonja died on the vine but she's found a way to get involved in the Conan franchise anyway. Variety says she's been added to the cast of Marcus Nispel's Conan the Barbarian reboot.
McGowan is set to play an evil half-human/half-witch. Any hope that this might be a way to work in the Red Sonja character for a spin-off can die right there. That's not Sonja. Also recently added to the film are Stephen Lang to play a sadistic warlord, and Ron Perlman as Conan's father.
The reboot will be based on Robert E. Howard's original books about a barbarian hero who avenges the murder of his father and the slaughter of his village. Jason Momoa has been cast as Conan and, hopefully, is up to the task of driving his enemies before him and hearing the lamentation of their women.
Your Daily Blend of Entertainment News
Thank you for signing up to CinemaBlend. You will receive a verification email shortly.
There was a problem. Please refresh the page and try again.