Rutger Hauer Is Van Helsing In Dracula 3D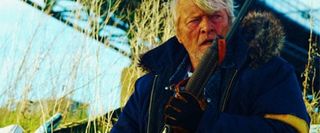 Somewhere around the time of his appearance on the now all but forgotten science fiction series Lexx back in 1997, though probably not because it, Rutger Hauer became a cult icon. This Hauer love is based almost entirely on his performance in Blade Runner. Or actually, it's based almost entirely on that single dying speech his character makes at the end of the film. He'll probably never find another role as good that one, but the actor has worked non-stop since his time being directed by Ridley Scott back in 1982, though most of his work has been almost entirely in obscurity. Now, thirty years later, that's starting to change.
Hauer had a prominent role in The Rite, out a couple of weeks ago, and he's got the fanboy-friendly Hobo with a Shotgun lurking around out there somewhere ready to shoot us all in the face. And now he's playing Van Helsing. Twitch says he's signed on to horror director Dario Argento's Dracula 3D as the legendary vampire hunter.
Argento is a horror director of note amongst horror freaks. For the average moviegoer, if you know him at all, you probably know him as the mind behind the 1977 horror film Suspira. Or maybe you just know him as the father of this person:
That's Dario's daughter Asia Argento, who had a brief cup of coffee in the mainstream when she starred opposite Vin Diesel in xXx.
That was what we in the blogging biz call a tangent.
Like her father, mainstream American fame didn't last long for Asia and, like her father, she's now making movies which are mostly seen by horror freaks and Italians. That doesn't mean they aren't good, though it does perhaps mean that Dracula 3D won't exactly be getting a wide release. You'll probably have to work to see it. The Rutger Hauer starring Dracula 3D starts shooting in May, and now's a good time to get interested.
Your Daily Blend of Entertainment News
Thank you for signing up to CinemaBlend. You will receive a verification email shortly.
There was a problem. Please refresh the page and try again.