Ryan Gosling Casts Girlfriend Eva Mendes In His Dark Fairy Tale Directorial Debut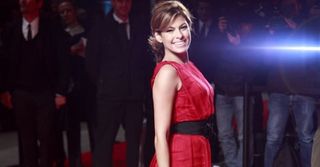 Eva Mendes and Ryan Gosling still seem like an odd couple, though maybe that will come into focus when we see the film that introduced the two of them, Derek Cianfrance's spring release The Place Beyond The Pines. But now we have proof that this isn't just some on-set romance that vanishes the movie comes out. Gosling has now cast his girlfriend in the film he's planning as his directorial debut, the surreal and possibly terrifying How To Catch A Monster.
Bloody Disgusting got the scoop, reporting that both Mendes and Rob Zabrecky-- who has a lot of small credits to his name but nothing you are likely to recognize-- have joined the cast. Gosling's Drive co-star is still on board to play the lead, a mother who travels with her two sons into a "macabre and dark fantasy underworld" that somehow includes an underwater town. Mendes will play "Cat," described as a prominent member of the Big Bad Wolf Club… but we have no idea what that means beyond the clear fairy tale reference. Zabrecky will play a cab driver, but if it's unclear if that's just a bit part-- and if it was, why would he be announced alongside a major name like Mendes?
All in all we can't exactly put all these pieces together, but that's not really a bad thing. Gosling seems to have something unusual and challenging planned, and knowing too many details might ruin the twisted surprises to come. And as much as she ruins the fantasy that Ryan Gosling could be your boyfriend, Mendes has a lot of talent that hasn't come out often, and it's exciting to see her taking on challenging roles-- even when they come with the added benefit of a few more months on set with your hunky boyfriend.
Your Daily Blend of Entertainment News
Staff Writer at CinemaBlend