Ryan Reynolds Is A Bloodied Mess In Deadpool Set Photo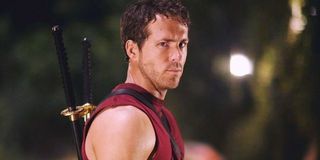 Just another day at the office for Ryan Reynolds…well, sort of. The Deadpool actor shared a photo from set in what appears to be proof that the R-rated movie will indeed live up to its rating as it nears the halfway point in filming. Take a look.
In the photo posted to Ryan Reynolds' Twitter account, the actor seems to be enjoying filming Deadpool, as he is all smiles and making light after perhaps filming a fight scene. We hope! The Woman in Gold actor is pictured dripping with fake blood—or is it?—down his neck onto his questionable fashion choice, a white tank. Though the photo is cutoff at the chest, you can still see that he is quite toned as indicated by the musculature of his arms and upper torso. Clearly, Reynolds is taking this role seriously. As well he should, it has been quite a long road to get the Deadpool movie to this point.
It all started back in 2000, when Marvel Entertainment inked a deal with Artisan Entertainment to co-produce a Deadpool movie. New Line Cinema was later brought on to produce with writer/director David S. Goyer—screenwriter for Man of Steel—at the helm and Ryan Reynolds starring. After New Line Cinema lost interest, 20th Century Fox took over in 2004. This was perfect timing as 20th Century Fox was already in development with X-Men Origins: Wolverine, a film that would feature Ryan Reynolds as Deadpool.
Even with the success of the film in 2009, the new producer Lauren Shuler Donner—wife of Superman director Richard Donner—wanted to reboot the character in a new movie that would feature some of Deadpool's notable characteristics from the comics in addition to breaking the fourth wall. A new script was written and sent to Robert Rodriguez—director of Machete—in 2010, but later fell through. By 2011, visual effects specialist Tim Miller was hired to direct the film. Test footage of Reynolds in the starring role was filmed in July 2012 and as result of a leak online, the project generated more interest. By fall 2014, the test footage had garnered so much positive response that 20th Century Fox had no choice but to heavily pursue the project, giving it a release date in 2016.
Despite being a reboot of the character, the new Deadpool movie will still apparently tie into the X-Men universe. Producer Simon Kinberg had the following to say on the matter:
Ryan Reynolds is quite the busy man these days. The actor is currently filming two movies at the moment, Criminal, a film about a criminal who is implanted with a dead CIA agent's memory and co-stars Kevin Costner, Tommy Lee Jones and Gary Oldman, and the Deadpool movie, based on the Marvel Comics character. Deadpool will hit theaters on February 12, 2016.
Your Daily Blend of Entertainment News