Godzilla Teaser Poster: Wow, That Is One Gigantic Tail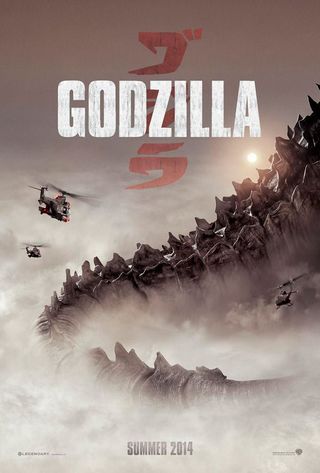 Godzilla may not be the most hotly anticipated film promoting itself at Comic-Con this week… but that won't last long if their promotional efforts keep up like this. On top of the massive fan experience they're already planning outside the Con, and the traditional Hall H panel, the movie's team keeps releasing stuff online to those of us who don't get to go to San Diego-- including this pretty damn stunning new poster, via their Twitter page.
The monsters of Pacific Rim have gotten us all excited lately, with their massive scale and punching abilities, but it looks like Godzilla will make the Pacific Rim kaiju look pretty puny. Look at the helicopters-- they're the size of a single vertebrae on Godzilla's tail! Remember that scene in Pacific Rim where the jaeger picks up a giant boat and whacks a kaiju with it? Godzilla could probably chew that boat in half and keep moving. It was the size of a baseball bat to the kaiju; it would be the size of a TicTac to Godzilla. Sure, we're still dreaming of the team-up that has Godzilla fighting the jaegers of Pacific Rim, but we're starting to feel like that's not going to be a fair fight.
Scale isn't the only thing that has us excited for Godzilla, of course. There's the cast they've assembled, from Breaking Bad superstar Bryan Cranston and up-and-coming Martha Marcy May Marlene star Elizabeth Olsen to French Oscar winner Juliette Binoche to the ever-reliable David Strathairn as a military man. And while director Gareth Edwards may not be a huge name yet, his low-budget debut Monsters had serious promise, and in the looks we've seen of Edwards behind the scenes, he seems like a devoted Godzilla fan who's finally gotten to make his dreams come true. Check out this recent look behind the scenes featuring Edwards himself.
So clearly Edwards is excited for Comic-Con… how about you? You can follow along with all of our Comic-Con coverage at this hub page, and for the first look at everything on the exhibit floor, click here for our preview night photo gallery. And of course we'll be on hand for Godzilla's appearance in Hall H on Saturday, so stay tuned!
Staff Writer at CinemaBlend
Your Daily Blend of Entertainment News
Thank you for signing up to CinemaBlend. You will receive a verification email shortly.
There was a problem. Please refresh the page and try again.