See The Vision In The Background Of The Avengers 2 Footage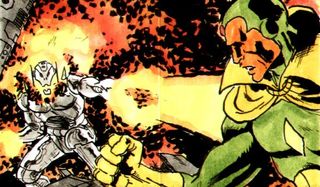 Have you had a chance to watch that Marvel footage from ABC's From Pulp to Pop homage? We ran it earlier this morning, and focused on the Ant-Man footage from the first half of the clip, primarily because it was the first time Ant-Man footage has been shown outside of various Comic-Cons. But the second half was Avengers: Age of Ultron content, and if you paid close enough attention, you saw Paul Bettany in costume as Vision. Watch it again:
Did you see him? He's over the shoulder of Scarlet Witch (Elizabeth Olsen), and slightly obscured by cameras, but you can see him in this freeze frame:
And as ComicBook.com notes, the pattern and color scheme on the Vision in the clip matches the very brief shot of the android hero that was included in the Avengers art at Comic-Con.
Plus, as we reported earlier, the makeup that Paul Bettany has to wear to assume the part of The Vision in Joss Whedon's The Avengers: Age of Ultron puts him in this range (and makes him the butt of multiple jokes for cast members who don't have to endure.
The Vision is one of the last remaining mysteries about Whedon's Avengers sequel. After the first trailer dropped, we were able to enjoy the voice of Ultron (James Spader), shots of the heroes in action, and the promise of a Hulkbuster. Oh, stop reading about it and watch it one more time.
So far, Marvel's marketing department has done a great job hiding what Vision is going to look like, entirely, in the sequel. Until now. Were they hoping we'd all be so focused on Scarlet Witch that we wouldn't spot Vision? Is it time for them to just unleash a promo image of the hero in costume? Or are you OK with waiting for at least one more surprise between now and the movie's release date?
Movie junkie. Infatuated with comic-book films. ReelBlend cohost. Resident dad. Extroverted introvert. Wants to see the Snyder Cut. Managing Director at CinemaBlend.
Your Daily Blend of Entertainment News
Thank you for signing up to CinemaBlend. You will receive a verification email shortly.
There was a problem. Please refresh the page and try again.