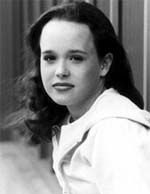 IGN's Stax sent me an email on this piece earlier this afternoon, and I've subsequently received about a dozen emails from other people telling me about it. I guess it's a big deal that Kitty Pryde has been cast in X-Men 3.
According to an exclusive report from IGN (read it here), Kitty will be played 15 year old Canadian actress Ellen Page. Surprisingly, despite her age she's got a whole lot of acting credits to go with her whole lot of forehead. She started acting as a very young child, and has worked in small Canadian films and on Canadian television. Casting such a young actress marks an about face from the direction taken by X3 before Matthew Vaughn's departure. Vaughn had been reportedly on the verge of casting "Lost's" 22 year-old, blonde haired, bitch bimbo Maggie Grace. Ratner it seems is interested in taking the role younger, which actually is more in line with the character's brief cameos in the previous X-Men films. Maybe Ratner's not as dumb as we think.
As an aside, IGN adds that they think Daniel Cudmore will reprise his role as Colossus (probably because the character is still just a cameo) and Angel still has not been cast.
Your Daily Blend of Entertainment News
Thank you for signing up to CinemaBlend. You will receive a verification email shortly.
There was a problem. Please refresh the page and try again.