Will Smith Does Drugs For Drama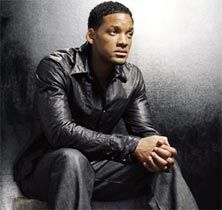 It looks like Will Smith may have gotten a taste for Oscar attention. He's taking on more heavy dramatic material in the future, and according to TMZ one of his next projects may be a movie based on the book "Cooked: From the Streets to the Stove, From Cocaine to Foie Gras".
The recently published novel, by Jeff Henderson, is about a successful San Diego cocaine dealer who gets pinched by the cops and spends his time in prison learning gourmet cooking. When he gets out, he works his way up the ladder to become an award winning Chef. It sounds a lot like another feel good, success against the odds tale in the vein of Smith's The Pursuit of Happyness, for which he got a Best Actor nomination from Oscar.
Will is already set to produce Cooked, and he's considering starring in it. If the formula worked once, why not try it again. I for one couldn't be happier to see Will finally taking his acting career seriously. I've always thought the guy had tremendous potential as an actor, but his tendency to "Big Willie" up his movies hasn't done him any favors.
Your Daily Blend of Entertainment News