Soul Surfer Poster Plays Hide The Missing Arm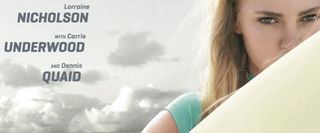 The drama Soul Surfer is based on the story of Bethany Hamilton, the teenage surfer whose arm was bitten off by a shark and who posed for the cover of her book exposing her missing arm next to a surfboard with a giant chunk taken out of it. It makes sense for the movie's poster to echo the same image, but yet again, the producers seem to be totally terrified of revealing the injury that the movie is actually about. Below you can see the new poster released today, compared and contrasted with the photo that made up the book's cover. I'm sure it won't be that hard to spot the difference!
Soul Surfer the movie stars Anna Sophia Robb, a child star all grown up who showed a good bit of talent in Bridge to Terabithia but who, unlike her co-star from that film Josh Hutcherson, hasn't quite made the leap to being taken seriously now that she's more grown-up. She's joined the film by Helen Hunt, Dennis Quaid and even Carrie Underwood, and at least two of those names might be able to help her build more credibility as an actress. Even though we still don't really know how she'll handle the heavy-duty dramatic stuff when Bethany loses an arm-- the trailer that hit recently focused more on the triumph that comes after-- but I'm hoping to see good things from her. Soul Surfer opens April 8. To learn more about the film and see the poster in high-res, check out our Blend Film Database.
Staff Writer at CinemaBlend
Your Daily Blend of Entertainment News
Thank you for signing up to CinemaBlend. You will receive a verification email shortly.
There was a problem. Please refresh the page and try again.