Will Spider-Man Be In Avengers 3? Here's What Sony Says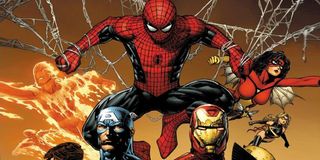 It seems that rumors which supposedly confirmed the long-awaited arrival of Spider-Man to the Marvel Cinematic Universe have been premature. When a recent Latino Review report cited details of an alleged deal that would finally see Marvel Comics' wayward wall-crawler cross over studio lines from Sony, it was seemingly the news that both hardcore comic book and casual movie fans had been waiting to hear for years.
However, a representative from Sony had some rain to pour on this parade and is telling Comic Book Resources that those fans need to slow their roll. According to the unnamed Sony rep, the report merely cites an "old rumor" with "no validity whatsoever." Whether those two short statements will be the final word on the possibility of Spidey assembling with The Avengers is difficult to say. Last year's The Amazing Spider-Man 2 was meant to be a watershed moment for the studio's Spidey movie franchise. The film took a classic, tragically-beloved storyline from the comic book canon and built around it what looked to be an expanding menagerie of miscreants to keep Andrew Garfield's Peter Parker/Spider-Man busy for at least two more films. (Which Sony were all too quick to greenlight even before TASM2's release.)
As if that wasn't enough, Sony was confident enough to subsequently announce plans for a spinoff film focusing on villainous super-group, the Sinister Six and a separate solo outing for iconic antagonist, Venom. It would seem that the message could be interpreted as Sony saying, "Take your Marvel Cinematic Universe and shove it." A message could even be interpreted from the fact that Sony pulled out the director's chair and scriptwriting duties for Sinister Six to Drew Goddard. The director and writer/producer for genre television standards like Lost, Buffy the Vampire Slayer, and Angel will also serve as a writer/producer on the upcoming MCU-set Daredevil television series. It's certainly a smart choice, and a good effort to nab someone who actually knows what they're doing with this genre. It also seems to imply that Sony may have been looking for their own Joss Whedon to sit in the center of the new movie universe they are attempting to build.
Unfortunately, I would venture to say that the damage is already done, since the brand perception for Sony's too-quick-to-be-rebooted Spider-Man films has been irreparably tainted. The Amazing Spider-Man 2, while full of cherry-picked moments of awesomeness and pure pathos, was the cinematic equivalent of an old-school MySpace page full of animated gifs of dancing babies and air-humping Stormtroopers. It had the unmitigated gall to try and cram the introduction of The Green Goblin, Electro, The Rhino, AND one of Spidey's most heartbreaking tragedies into a single dramatic piece. The universe-building aspect was quite apparent, but the result was something that flowed unnaturally and the film's $202.8 million domestic total was certainly lower than expectations. (Although foreign markets added another $506 million.)
The version of Sony's game plan that we know of publically is one where The Amazing Spider-Man 2 needed to be a hit. It wasn't, really. Plus, the fate of the spinoff films remain in a constant state of flux. So, it will be interesting to see what Sony's next move will be. Will they keep on trucking by themselves out of pride? Or will they finally concede that negotiating a deal with Marvel is the best option for making money and pleasing fans?
Your Daily Blend of Entertainment News