Star Wars 8 Release Date Set, Other Details Made Public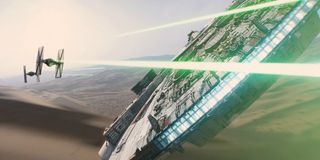 As fans anxiously await the release of Star Wars Episode VII: The Force Awakens this December, it seems that a huge bombshell just hit regarding its yet-to-be named follow-up.
Star Wars Episode VIII will see Rian Johnson take the director's chair, as expected, following this year's J.J. Abrams-directed sequel trilogy kick-off. The Looper director will now find himself at the helm of one of the most celebrated franchises in cinematic history, with a sequel landing in theaters on May 26, 2017. No pressure, right?
The news comes as the result of an especially loquacious day for Walt Disney CEO Bob Iger, who has also just announced the title of the first Star Wars spinoff film, Rogue One. The film, directed by Gareth Edwards (who recently helmed Godzilla), will star recent Oscar nominee Felicity Jones.
The selection of Johnson is an interesting choice. Johnson's directorial resume may not be lengthy, but the entries are certainly impressive. First coming into prominence reinventing the career of child sitcom star, Joseph Gordon-Levitt with 2005's Brick, Johnson parlayed that momentum with a stacked-cast adventure comedy The Brothers Bloom in 2008, before working on his most notable, imaginatively compelling work, again with JGL, in 2012's Looper. The time-bending action-drama was highly acclaimed, mixing an inventive science-fiction-esque premise with solid action and the star power of Bruce Willis to create a truly unforgettable film. The fact that Disney tapped Johnson to replace J.J. Abrams in this showcase of all film franchises indicates a solid vote of confidence in his storytelling ability, despite his relative inexperience with big-budget monstrosities.
While it is unknown why J.J. Abrams will not return after The Force Awakens, it does appear to present an intriguing possibility in regards to Disney's approach to the franchise. Most people will at least acknowledge that the Star Wars Prequel Trilogy, tightly controlled and micromanaged by George Lucas from the director's chair for all of the films, were not seen as artistic achievements. The very idea that Disney may be rotating who takes the helm with each film could be indicative of them trying to make the creative process more organic, keeping things fresh. J.J. Abrams was initially brought in as the established commodity who knew how to set the template for the rest of the trilogy effectively.
Now, with the infrastructure in place, Disney appears to be injecting some new blood into the mix regarding who has a firm grip on the character and dramatic aspects. This method even mirrors the Original Star Wars trilogy, as George Lucas helmed the first entry, then put Irvin Kershner behind the camera for The Empire Strikes Back and then Richard Marquand for Return of the Jedi. While it has yet to be confirmed if Johnson's involvement is restricted to Episode VIII, it is possible that Disney is working off a tried and true, classic playbook.
Regardless, Star Wars: Episode VIII, helmed by Rian Johnson, will be headed to theaters on May 26, 2017, hoping to live up to the stratospheric second entry standards set by Empire.
Your Daily Blend of Entertainment News
Thank you for signing up to CinemaBlend. You will receive a verification email shortly.
There was a problem. Please refresh the page and try again.